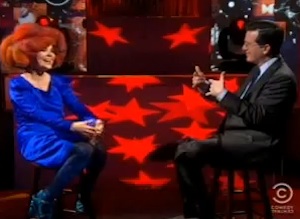 On Tuesday's Colbert Report, Stephen Colbert interviewed the ever-enigmatic Icelandic performer Björk, who was promoting her new album Biophilia. The Nordic songstress astounded the late-night comedian with an iPad app that corresponded with the music from the album and her tales of elves. Colbert was particularly enchanted by her innovative utilization of the iPad, opining, "This album in particular isn't just music, it's got this graphic interface here!"
Colbert then demonstrated how users could interact with her music using various touch-pad motions.
"It has apps that go with it," Colbert observed. "I have to tell you the apps are kind of dangerous because I was trying to watch your album while driving to work today and nearly killed myself! Like look at this. Are we turned up here? Look at this–an app that allows you to–I get to join the song! Look at that — and then if you go through the phases of the moon, it changes what the song is like. That is extraordinary." Colbert later asked if he could lick the album.
RELATED: This Exists: Iceland Rewrites Their Constitution Using Suggestions Through Twitter
Bjork explained she created her album with a touch screen, a lemur device. She had planned to do this in 2008, but the technology didn't exist at the time.
"You're using this to teach kids about science and music at the same time," Colbert exclaimed. "Why sully something as beautiful as music with something as ugly as science?"
"I was excited about science when I was a kid," Bjork shared.
"Do you people believe in elves there?" Colbert asked. "I read you people believe in elves in Iceland? Is that true?"
"We do," she acknowledged. "It's sort of a relationship with nature, like with the rocks they all live in the rocks, so you have to– it's all about respect, you know."
"You gotta respect the elves?" Colbert quipped.
Watch Björk's interview with Colbert below:
And watch her perform "Cosmogony":
Have a tip we should know? tips@mediaite.com