Black Conservative Tears Into Trump's Flirtation With White Supremacists: 'This Is Not Excusable'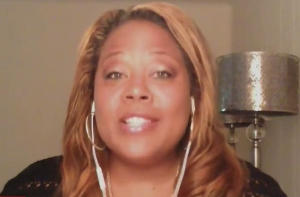 CNN political commentator Tara Setmeyer went off on Donald Trump Tuesday and his campaign's history of sharing racist memes and images from white supremacists, getting in a shouting match with Trump supporter Jeffrey Lord.
"When I heard this sheriff's star nonsense yesterday, that this was the excuse, I looked at my husband– who is a federal law enforcement officer, by the way, who was very offended by the implication that a sheriff's star was what this was instead of the Star of David– the first thing he said when he looked at that was, 'A sheriff's star has points on it,'" she began.
"That's not true," Lord interrupted
"Most of them they are, yes. Come on, give me a break, Jeffrey, just stop it," Setmeyer shot back. "This is one of the nonsense excuses that this campaign is using to make up for their incompetence and the fact that they are running an amateur hour presidential campaign."
"If this had been a one-off, maybe you could excuse it away," she continued. "But this is not the first, second, third or fourth time that Donald Trump has gotten in trouble for retweeting things from white supremacists."
"Is he being investigated by the FBI, Tara?" asked Lord, a reference to Trump's Democratic opponent Hillary Clinton.
"As a conservative and as someone who worked for Ronald Reagan like yourself, you should think we are held to a higher standard," she responded. "We're supposed to be better than them. So why do you continue to support someone that keeps dragging this campaign into the mud in a way that is an embarrassment to the conservative movement that Ronald Reagan built?"
"He didn't drag it into the mud," Lord protested.
"Yes he did! He retweeted from a white supremacist meme!" Setmeyer shouted. "What about when he retweeted from someone named WhiteGenocideTM, not once, but twice? You're telling me that Donald Trump didn't recognize that name?"
"What about all the times, the disgusting things on social media coming from Trump people to people like myself?" she continued. "This is not excusable!"
Watch the exchange above, via CNN.
[Image via screengrab]
——
>>Follow Alex Griswold (@HashtagGriswold) on Twitter
Have a tip we should know? tips@mediaite.com