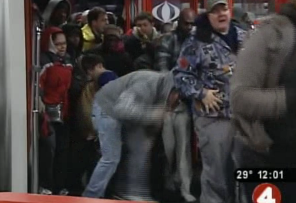 Combine a crowd of holiday-stuffed bargain hunters, the lure of first-come-first-served monster savings, a stunt midnight start time, and a standard-sized set of doors…and you get the annual recipe for a "Black Friday" stampede.
Cut to Buffalo, New York, where the clock struck midnight, prices plunged, and an oversized throng tried to squeeze through the doors of a Target store. "It went from controlled to a mob in less than five minutes and it just got nasty," one shopper told WIVB-TV, which reported one person injured seriously enough to be transported to a hospital.

When officials heard the screams they ran over right away to help.

Shopper Rich Mathewson said, "It was a lot of angry people just jumping in after we waited patiently for a long time. It actually started way before that people started getting angry at everybody."

After it happened, one man bent over in pain, but he took off into the North Buffalo Target store seconds later along with everyone else.
Ah, the spirit of the season, right?
Watch it, from WIVB:
In Boynton Beach, Florida, no stampede at the Walmart for Black Friday–just a guy armed to the teeth:
Boynton Beach police said they arrested Christopher D. Scott, 49, just after midnight today in a checkout line at the Walmart at 3200 Old Boynton Road.

Scott is charged with three counts each of carrying a concealed firearm, carrying a concealed weapon, and possession of a controlled substance without a prescription.

Officers had been doing an extra patrol at the store because of the large crowd seeking early bargains.

A police log said Scott wore a .40-caliber Glock handgun with a 30-round magazine in a holster at his hip, as well as two concealed knives and a "pepper grenade."
Have a tip we should know? tips@mediaite.com