Black Love Day Co-Founder Blasts 'Black Intellectual Prostitute Clarence Uncle Thomas'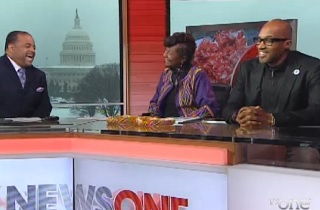 On Thursday morning's edition of NewsOne Now, host Roland Martin celebrated the 21st Black Love Day by interviewing the co-founders of the holiday, Ayo Handy Kendi and Kymone Freeman, co-owner, General Manager, and host for Washington DC's WeAct Radio. Handy Kendy explained the origins of Black Love Day, and the purpose of the holiday, and when Martin asked Freeman how to show love when you might not want to, Kymone dropped some casual choice verbal bombs on Supreme Court Justice Clarence Thomas, who was the topic of a segment on Wednesday's show.
Ayo Handy Kendy explained that she founded Black Love Day in 1993, and was inspired by the assassination scene in Spike Lee's Malcolm X. She remembered thinking "Wow, that was terrible how people are still killing each other, black-on-black crime is still escalating, and I said what can I do to stop the violence, increase the peace, and I heard God say 'we need more black love.'"
"We ask people to show love, demonstrate love for 24 hours," she added. "Show love for the creator first, for ourselves, for our family, our community, and the black race."
Roland then asked Kymone "What if people are getting on your nerves today? Let's say people are screwing up at the job, and you're really not trying to love 'em today, 'cause you really want to cuss 'em out."
"The fact is, we've all had jobs where we didn't like everybody at the job, and it didn't ever stop the work getting done," the outspoken radio host replied. "Yesterday, you had Hugh Masekela on, and he talked about the reclamation of heritage."
"That's what this is," Kymone continued. "We have to do what we can to set up our own cultural traditions, because it's no surprise, there's been an avalanche of white oppression since we got here, and that has sometimes been facilitated by black intellectual prostitutes like Clarence Uncle Thomas, that you discussed yesterday, and so we have to carve out our own way, be it Black History Month, be it Black Love Day, be it Kwanzaa, these are things that we have to do that resonate with us, because we've been too often willing to accept what's been given to us by the dominant society."
Justice Thomas' recent comments about his mistreatment by white Northeastern liberals were the subject of two segments on yesterday's NewsOne Now.
Here's the video, from NewsOne Now:
Have a tip we should know? tips@mediaite.com