'Black Panther' to 'Moses': The 7 Most Ridiculous Things Cable News Said About Eric Holder
The 7 Most Ridiculous Things Cable News Said About Eric Holder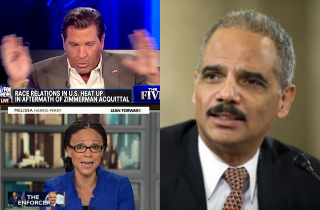 Eric Holder, who will resign Thursday after almost six years on the job, had a mixed record as Attorney General, tenaciously safeguarding civil rights and introducing criminal justice reforms while failing to prosecute the perpetrators of the financial collapse or Bush-era torture architects. (To say nothing of the various scandals, pseudo- or otherwise, that have made Holder the right's bête noire.)

That's if you pay attention to his record, anyway. According to cable news, Holder is either a race-baiting Black Panther or a Biblical figure who's more Obama than Obama. Holder's aggressive pursuit of his causes and dramatic clashes with Congress have induced hyperbole on both sides of the cable news spectrum. Here are the most outlandish.
—
Brit Hume: Eric Holder "Benefited Enormously" From Being African-American
Yeah, what a break. Hume also called Holder Nixon-esque in his various alleged coverups. Quite a feat to benefit from being both black and Nixon. No wonder Holder's held the office this long.
—
Melissa Harris-Perry: Eric Holder Is the 'Obama We Had Been Hoping For'
Huh?
—
Glenn Beck: Holder is 'Psychotic'
And this was in reference to the famous asparagus dispute with Rep. Louie Gohmert (R-TX). Gohmert!
—
The Five: Eric Holder Won't Stop Until He 'Gets George Zimmerman's Blood'
Conservative media often looped Holder and Obama in with Al Sharpton, who played a major role in elevating the Trayvon Martin murder to national prominence. Fox pundits saw a racial vendetta in Holder's subsequent attention to the case, which included investigating potential civil rights abuses after the conclusion of the trial — or, if you prefer, Zimmerman blood lust.
—
Eric Bolling: Eric Holder Is the Second Biggest Racist in the Whole World
You have three guesses as to who #1 is, and the first two don't count.
—
Andrea Tantaros: Eric Holder Is Basically a Black Panther
The Black Panther connection is probably the longest running right wing suspicion of Holder, with Rush Limbaugh, Laura Ingraham and others raising it at various points of Holder's tenure.
But in Tantaros case, there was nothing Panther-y about Holder's DOJ, it was just be the closest talking point on set.
—
Michael Eric Dyson: Eric Holder 'Is The Moses Of Our Time'
Because both were law-based authorities: "What he should understand is that he is the chief lawgiver of the United States of America, so to speak – he's the Moses of our time, and at least for this administration."
—
Bonus Unfunny Jay Leno Joke
"It's so hot out, Eric Holder is smuggling water pistols."
[Image via screengrab]
——
>> Follow Evan McMurry (@evanmcmurry) on Twitter
Have a tip we should know? tips@mediaite.com