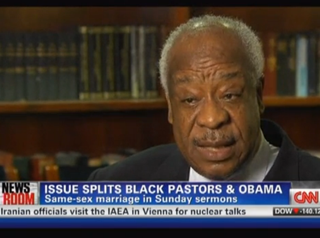 President Obama's headline-grabbing flip-flop on gay marriage may cost him dearly in the more religious parts of the black community, reports CNN today, as pastors tell their congregations the president is wrong in stepping in. In a report on the divide over social issues in the black community, Athena Jones speakers to Rev. Dr. Emmett Burns, who insists that, while he and his peregrines won't support Mitt Romney, they have no interest in going to the polls.

RELATED: Majority Of Americans Say Obama's Gay Marriage Endorsement Won't Affect Vote
Jones reports that, while some pastors, like Rev. Wallace Charles Smith, support the President with the caveat that "we preferred that he had not weighed in on the issue," Rev. Burns (also a state legislator) has no interest in voting this year. "People have come up to me, are saying they don't support this, they don't like this," he argued. "They are disappointed with the President, and they plan to stay home."
Anchor Carol Costello followed up with an interview with Marvin Randolph, Senior Vice President of Campaigns for the NAACP, who expressed concern that the attitude of leaders in the religious community could lead to a suppression of the African American vote. "The only way to affect the issues that you care about is by voting at the ballot box," Randolph noted, adding that many elections, not just the presidential one, could be affected negatively in this way. "We have to make sure that African Americans don't stay home this year by reminding them what's at stake," he concluded– and that includes all sorts of community and local positions that have a much more direct effect on a neighborhood, town, or city than the presidential one.
The segment via CNN below:

Have a tip we should know? tips@mediaite.com