Black Pastors Clash Over Political Implications In Black Community Of Obama And Gay Marriage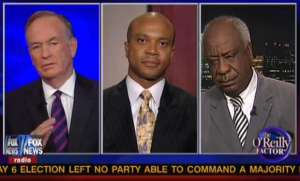 The politics of gay marriage was the subject of Bill O'Reilly's Talking Points and following discussion on Tuesday night. Noting that President Barack Obama's decision to announce his support for gay marriage seems to be negatively affecting his standing with African-Americans, he later spoke to the black pastor who on Monday said he would not be supporting Obama.
RELATED: Black Pastor Tells CNN His Church Won't Support Obama, 'Plan To Stay Home'
O'Reilly pointed to today's poll in which over two-thirds of respondents said Obama's gay marriage endorsement was for political reasons, not because he felt it's the right thing. That poll, O'Reilly said, demonstrates that most Americans now see Obama as just another politician. If it was a political calculation, he said, it's "actually hurt him" — and may may even have damaged his standing with African-Americans.
To this point, O'Reilly played a radio clip. A woman called into Hot 97.1, during a discussion on the topic, and her reason for being unhappy with Obama's decision was blunt and, at the least, politically incorrect: "I don't know, I've never liked gay people."
At this point, the election is a toss-up, O'Reilly said, but right now the president is slipping everywhere. He then opened up a discussion, speaking to Rev. Emmett Burns, who yesterday said he had no interest in going to the polls anymore, and Rev. Delman Coates, who supports same-sex marriage.
Regarding yesterday's remarks, Burns said, "I overspoke because I was so chagrined about the president." He's encouraging those in his church to vote, he said, adding, "I will support the president, and I don't see a conflict here." Burns said he can be true to religious beliefs and not support same-sex, but simultaneously support the president.
On the same topic, he said he doesn't consider same-sex marriage a civil right, and that it's not comparable to the civil rights struggles of African-Americans. "I could never hide the color of my skin," Burns said. "It is not a civil rights matter, it is a moral matter."
Coates begged to differ, arguing that no group "has a monopoly" on civil rights — that equal treatment under the law applies for all groups.
Onwards in the segment, Burns divulged that Romney sides with him on the issues of abortion and same-sex marriage, but nonetheless, he feels Obama is the better choice. A better candidate with a better program.
Circling back to the gay marriage issue, Burns decided said it's a "slippery slope," and if we get on it, marriage could continue to change: "Somebody will want to marry a sister, a brother."
Coates immediately voiced his opposition to that argument, and at the end of the segment, stated, "We have to live in our faith, not legislate it."
Take a look, via Fox News:

Have a tip we should know? tips@mediaite.com