Black Republican Reverend To MSNBC: Blacks And Latinos Had No Reason To Vote For Obama But His Race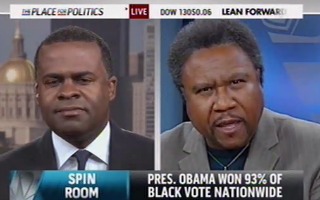 The Rev. C.L. Bryant, promoting his documentary chronicling his conversion from Democrat to Republican, Runaway Slave, appeared on MSNBC with anchor Thomas Roberts on Thursday where he claimed that there was no reason for minatory voters to turn out in support of President Barack Obama in the way that they did but for his race.

Atlanta Mayor Kasim Reed charged that the GOP has a nearly intractable problem with minority and women voters because they consistently offend those demographics with their policy proposals which would infringe on their rights.
"I'm actually satisfied as a Democrat because it means that they're going to continue to lose," Reed said. "They've lost Florida; they will not get it back. They've lost Virginia; they will not get it back. The only state they won is North Carolina and they barely eked that out by 2 points."
"How can the Republican party do better with nontraditional constituencies," Roberts asked.
"By telling the truth about who they have been historically," Bryant replied. "Take away this president's skin color, and take away the race card that is played so often with this president, and there is really no reason for black people to vote for him – or Latinos in that frame as well."
"When you look at the unemployment rate among those two demographics, when you look at the poverty rate among young, white females, there is no reason for anybody to have reelected this president in those demographics except for the emotional issue of race," Bryant added.
The Democrat party – the progressive liberals – have been very successful at co-opting the emotional issues of the day. The truth of the matter is, those very issues have led the same group of people who voted for this president — and voted for him religiously – into a mindset and into a culture of bondage.
Watch the clip below via MSNBC:
> >Follow Noah Rothman (@Noah_C_Rothman) on Twitter
Have a tip we should know? tips@mediaite.com