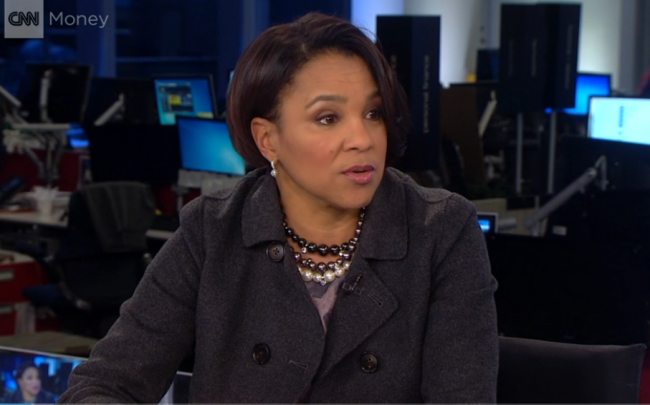 Some internet users are calling racism on Sam's Club CEO Rosalind Brewer after the black female executive said in an interview that she prioritizes diversity, telling CNN's Poppy Harlow, "I demand it within my team."
"Every now and then, you have to nudge your partners, and you have to speak up and speak out. And I try to use my platform for that," Brewer said, later adding that she tries "to set an example" through her leadership. "I try to mentor many women inside my company and outside the company because I think it's important," she said.
"Just today we met with a supplier and the entire other side of the table was all Caucasian males," Brewer noted. "That was interesting. I decided not to talk about it directly with [the supplier's] folks in the room because there were actually no female, like, levels down. So I'm going to place a call to him."
Brewer's interview with Harlow ignited a wave of criticism on social media, with Twitter users calling for people to #BoycottRacistSamsClub. On the Sam's Club Facebook page, several customers declared they would no longer shop at the bulk grocery chain.
As a White person I need a safe space from racist blacks. I do not feel safe at Sam's Club. #BoycottRacistSamsClub

— Henry (@StillAGoodfella) December 15, 2015
Just canceled my membership. #BoycottRacistSamsClub CEO MUST be fired! @Walmart @samsclub https://t.co/YhQfuS1FHy

— Keith Patrick (@nationofatlas) December 15, 2015
You're a bigot if you're offended a black CEO tells her suppliers they have too many "caucasian males." #LiberalLogic#BoycottRacistSamsClub

— Phil Elmore (@Phil_Elmore) December 15, 2015
"As a white male, I am deeply offended by the CEO of Sam's Club clearly racist attitudes towards white males," Edward Thomas Martins wrote on Facebook. "My family and I will be shopping at Costco. Thank you."
Doug McMillon, President and CEO of WalMart Stores, Inc. — the parent company of Sam's Club — declared his continued support for Brewer, saying in a statement that the company asks "our suppliers to prioritize the talent and diversity of their sales teams."
"Roz [Brewer] was simply trying to reiterate that we believe diverse and inclusive teams make for a stronger business. That's all there is to it and I support that important ideal," McMillon added.
Watch Brewer's interview with Harlow, via CNN.
[Image via screengrab]
—
>> Follow Elizabeth Preza on Twitter (@lizacisms)
Have a tip we should know? tips@mediaite.com