Slate Writer Who Began 'White Santa' Discussion Accuses Fox's Megyn Kelly of 'Playing the Victim'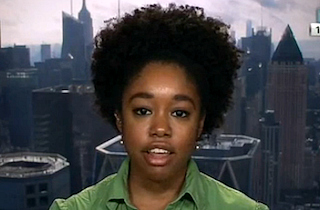 Slate blogger Aisha Harris appeared on CNN's Reliable Sources Sunday morning to discuss the Megyn Kelly/Black Santa dustup that all began with Harris' original article on the subject.
"It kind of reinforced my point, actually," Harris said of Kelly's original comment that Santa just "is" white (Jesus, too). "The fact that Kelly and some of the other guests on the show were insisting that Santa is white just spoke to the reason why I wrote the piece: a lot of people out there automatically assume that Santa must be white, and it's laughable that he should be anything else."
Host Brian Stelter played Kelly's response from Friday evening, in which the Fox News host mocked critics for blowing an offhand comment out of proportion.
RELATED: 'Black As Hell' Santa Claus Appears on SNL's Weekend Update to Address Megyn Kelly
"I felt that they were playing the victim there," Harris said. "And the fact that they tried to deflect it, and say that they were making a joke out of it, just didn't ring true to me. She said it very emphatically on the program Wednesday, and to me there was nothing joke-like about it."
Harris also disputed Kelly's claim that she would rather "sling the arrows from the privacy of [Slate's] office" than appear on Fox News, arguing that their invitation to appear on Friday's show had come at the very last moment.
"They didn't reach out until just before the show was airing," Harris said. "It felt like a last minute thing, almost like a slight."
UPDATE: We reached out to a Fox News spokesperson for comment and they replied:
"Slate and Harris were contacted more than a few hours before the show."
Watch the full clip below, via CNN:
[Image via screengrab]
——
>> Follow Evan McMurry (@evanmcmurry) on Twitter
Have a tip we should know? tips@mediaite.com