Blitzer Grills IRS Head: Why Shouldn't Taxpayers Use 'Crashed Hard Drive' Argument?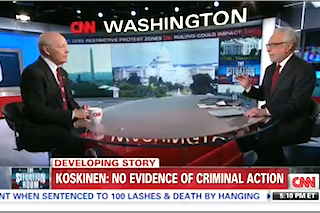 After days of getting hammered by Republican members of Congress on Capitol Hill over the last few days, IRS Commissioner John Koskinen sat down with Wolf Blitzer on The Situation Room Thursday afternoon and attempted to defend his agency's reaction to the scandal involving Lois Lerner's missing emails.
"I apologize to anybody who had their applications held up needlessly," Koskinen said. everybody needs to be confident that the IRS is going to treat them fairly, Republicans, Democrats, whatever organization they belong to. It's a serious matter."
Blitzer honed in on the question of the missing emails, getting Koskinen to agree that it looks "suspicious," the the IRS head insisted that no one was intentionally trying to "wipe out" evidence by deposing of email correspondence. The CNN host continued to push Koskinen, asking him if he believes the scandal warrants a "criminal investigation."
Later, turning to his Twitter followers for question ideas, Blitzer asked, "Why shouldn't taxpayers use the crashed hard drive excuse when undergoing an IRS audit?"
Taking that suggestion seriously, Koskinen said that many have tried that approach and he was working to make sure there is not a "dual standard" in place. "If you lose a document, it doesn't mean you lose the argument," he said, saying the IRS would give taxpayers the benefit of the doubt just as he is hoping Congress will do for the IRS.
Blitzer gave Koskinen and opportunity to defend himself from charges of partisanship given the fact that he is a registered Democrat who has donated money to President Barack Obama. "I've never been a political or partisan operative," Koskinen said, noting that the Bush administration asked him to work on Freddie Mac. "At this point in my career, it's not my intention at all to play games with the Congress," he said. "My goal is help restore people's faith in the critical institution of the IRS."
When Blitzer asked Koskinen if he thinks it looks "fishy" that Lois Lerner plead the Fifth Amendment instead of testifying before Congress, the commissioner said he has "no idea" why Lerner made that decision. "Nobody wants this to end sooner than I do," he said. "Whatever the facts are, I've said we'll deal with them."
"You don't want the IRS to be getting involved in political witch hunts for political reasons," Blitzer said in an attempt to sum up Koskinen's argument. "And if in fact that occurred, that's outrageous."
"I couldn't agree more," Koskinen replied.
Watch the full interview below, via CNN:
[Photo via screengrab]
— —
>> Follow Matt Wilstein (@TheMattWilstein) on Twitter
Have a tip we should know? tips@mediaite.com