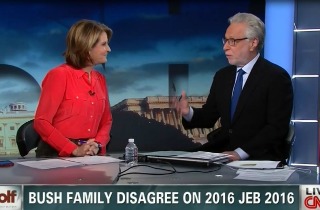 In late 2011, nearing the eve of the formal start of the 2012 presidential election cycle, America's liberal commentators had already watched a series of Republican presidential debates and formed their opinions of the prospective GOP candidates. Most determined that former Massachusetts governor and eventual nominee, Mitt Romney, was an unsavory conservative, but he was a preferable alternative to his Republican competition.
In fact, the left-leaning political press was so much more concerned about Romney's arch-conservative competitors that they were willing to overlook the former governor's offenses to liberal orthodoxy. According to the left-of-center press, virtually all of the Republican Party's presidential aspirants in 2012 were literally crazy.
Former Salon writer and current MSNBC host Steve Kornacki called Romney's approach to the primary process in August, 2011, amid the fleeting Texas Gov. Rick Perry's bubble, his "sanity strategy."
"To be a sane Republican today is to hope that Romney can hang on in Florida and beyond," The New Yorker's George Packer wrote in January, 2012. "A sane Republican has to want Romney as nominee in order to rule out any possibility of having Gingrich as President."
Former MSNBC host Martin Bashir, who would later unfavorably compare the GOP's presidential nominee to Ugandan dictator Idi Amin, called Romney a "beacon of sanity in a sea of stupidity."
Of course, once Romney acquired the requisite delegates needed to secure the nomination, he promptly grew horns and was accused of complicity in negligent homicide while surrounding himself with virulent racists.
It's a familiar pattern and it is happening again. This time, however, the "good" Republican is former Florida Gov. Jeb Bush. This month, a host of MSNBC analysts and contributors – and even a handful of Democratic officeholders – have been touting Bush as his party's last, best hope for retaking the White House in 2016.
RELATED: According to MSNBC, Jeb Bush Is Now the GOP's Only Hope
Sen. Chuck Schumer (D-NY) said that, if Bush does not run, the 2016 cycle is "almost certainly" already lost to Republican.
"If they're only going to be the party of older white people, they cannot win at a national level," MSNBC.com Senior Editor Beth Fouhy agreed. "Jeb Bush thinking of getting into the 2016 race is giving them a glimmer of hope."
"Jeb Bush would be a strong general election candidate for Republicans," The Washington Post's Chris Cillizza assured MSNBC viewers.
Ronan Farrow named Bush his "hero of the day" for his comments about illegal immigration being "an act of love" as well as a federal crime.
It might be a few weeks late to get in on the ground floor of a trend, but CNN is joining the 2016 speculation game. With the Bush family, as well as the former Florida governor, clearly nursing media speculation around his future political ambitions, CNN's Gloria Borger recently interviewed Jeb's brother Neil Bush who revealed that former President George H. W. Bush is supportive of his son's presidential hopes.
Borger observed that Bush does face an uphill battle in appealing to the Republican electorate, noting that it will be hard for a Bush to sell himself as a change candidate. No matter, interjected CNN anchor Wolf Blitzer. Bush is the GOP's only hope.
"If the Republicans want to win the White House, a lot of Republicans know this, they've got to carry states like Florida, for example," Blitzer said, his argument supported by the fact that Bush last won a statewide election in the Sunshine State 12 years ago.
"Ohio, he would be formidable against Hillary Clinton in Ohio." Blitzer continued. Why, you ask? Who knows. The only race Clinton ever won in Ohio was limited to Democratic voters and Bush has never even run, much less won, a race in the Buckeye State.
"If you want to win, you've got to have someone, presumably, like a Jeb Bush," Blitzer asserted. Borger agreed and added that former Democratic operative Paul Begala shares that authoritative opinion.
Guess who Wolf Blitzer thought was the "most electable candidate" in 2011? You guessed it: Mitt Romney.
Then as now, to say anything else would be to buck conventional wisdom. In 2011, however, at least Romney had polling data showing him to be the most competitive prospective candidate to face President Barack Obama in 2012. But at this absurdly early date, Bush currently polls worse in a general election against Hillary Clinton than the written off, utterly unelectable New Jersey Gov. Chris Christie.
Republicans never seem to get the message, do they?
Correction:: an original version of this column quoted Blitzer as saying the Republican Party needs "someone, presumably, like Jeb Bush." It has been updated to reflect that Blitzer said the GOP needs "someone, presumably, like a Jeb Bush." (4/30/14)
Watch the clip below via CNN:
[screengrab]
— —
>> Follow Noah Rothman (@NoahCRothman) on Twitter
Have a tip we should know? tips@mediaite.com