Blogger Retaliates Against Gun Map, Publishes Addresses Of Newspaper's Staff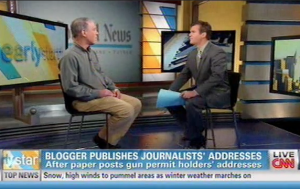 On Thursday, a blogger took to CNN's Early Start to explain why he decided to publish the addresses of many of the The Journal News' staff after the paper published the names and addresses of gun permit holders in several counties.
RELATED: New York Newspaper Under Fire After Publishing Names, Addresses Of Gun Permit Holders
"Well, I just thought they were being hypocrites," said Christopher Fountain said. "In the aftermath of Newtown, it was obviously one tragedy, but somehow they were conflating legal gun owners with some crazed tormented devil up in Newtown and putting the two together. And I was offended by that and I wondered how they would like it if their addresses were published."
Fountain began by publishing the home addresses of some of the newspaper's staffers and later linked to an interactive Google map displaying the information.
Asked to respond to the newspaper's justification for publishing the information (some citizens "would like lawmakers to expand the amount of information the public can find out about gun owners" after the Newtown shooting), Fountain wasn't buying it.
"Well, she could have just published the number of gun permits, which is actually quite small, if she wanted to show an issue that there are 2,000 legally registered guns in her county, fine," he said. "But the fact that they put the addresses — I've received emails from abused women who were under protective order and in hiding, and they're terribly afraid that now their names and addresses are all over the Internet and accessible through that map."
Watch below, via CNN:

Have a tip we should know? tips@mediaite.com