Bloodied London Attacker Speaks To Camera After Beheading: 'You People Will Never Be Safe'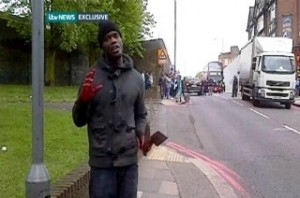 "I apologize that women had to witness this today but, in our land, our women have to see the same," the attacker said on camera after beheading a man on the streets of London. "You people will never be safe."
It is believed there were two attackers who acted in coordination, killing one and wounding two more in the streets of London. The attackers were incapacitated after they assaulted police.

This violent act is being considered an Islamist terrorist attack by British authorities.
UPDATE: The full statement made by the attacker is as follows:
"We swear by Almighty Allah, we will never stop fighting you until you leave us alone. The only reasons we killed this man is because Muslims are dying daily. This British soldier is an eye for an eye, a tooth for a tooth. We apologize that woman had to see this today, but in our lands our women have to see the same. You people will never be safe. Remove your government. They don't care about you."
UPDATE: CNN has the gruesome details of the assault as it unfolded:
Another witness, who gave his name only as James, told London's LBC 97.3 radio station that he saw two men standing by the victim on the floor.

At first he thought they were trying to help the man but then saw two meat cleavers, like a butcher would have.

"They were hacking at this poor guy, literally," he told the radio station, as if they were trying to remove his organs.
"These two guys were crazed. They were just not there. They were just animals."
UPDATE: Amateur footage has emerged featuring events in the aftermath of the attack.
Watch the report below via ITV:
— —
> >Follow Noah Rothman (@NoahCRothman) on Twitter
Have a tip we should know? tips@mediaite.com