Bloomberg: If Giffords And Aurora Shootings Haven't Gotten Us To Reconsider Gun Control, What Will?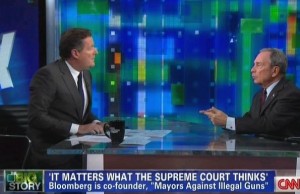 New York mayor Michael Bloomberg sat down for a lengthy interview with Piers Morgan on CNN tonight to continue calling for President Obama and Mitt Romney to address gun control in the wake of last Friday's shooting in Aurora, Colorado. Bloomberg said that both candidates should explain why they no longer support gun control as they used to, and noted that if Virginia Tech, the shooting of Gabrielle Giffords, and last week's tragic shooting could not spur the nation to seriously address gun control, he doesn't know what will.
RELATED: Bloomberg: Obama 'Has Spent The Last Three Years Trying To Avoid The Issue' Of Gun Control
Bloomberg followed up on his comments over the weekend about the presidential candidates, saying that gun violence is a "substantial problem" and they both have an obligation to tell the voters what steps they will take to deal with the problem. He said police offices across the country should go on strike to get politicians to act quickly on gun control.
The mayor said Romney should explain he no longer believes in the same kind of gun control he pushed for when he was the governor of Massachusetts, and Obama should explain why he has not followed through on his promise to push for a new assault weapons ban. Morgan found it odd that Obama never said in his address yesterday how he would prevent similar tragedies from occurring.
Towards the end of the interview, Bloomberg questioned exactly what it would take for the United States to seriously address gun control.
"Someday there will be a shooting which you would think would trigger in the American psyche this 'I'm not going to take it any more' attitude. Maybe if… you shot a president? But Ronald Reagan, when he got shot, didn't trigger it. Maybe if you shot a congresswoman? No. Maybe if you shot a bunch of students on campus? No. Maybe if you shot a bunch of people in a movie theater? I don't know what it is, we obviously haven't gotten there yet, but we just – this cannot continue."
Watch the full interview below, courtesy of CNN:
—–
Follow Josh Feldman on Twitter: @feldmaniac
Have a tip we should know? tips@mediaite.com
Josh Feldman - Senior Editor