Bloomberg TV Swarms To Cover Financial Fallout As Mubarak's Rule Comes To End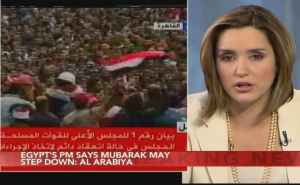 As protesters celebrate in Tahrir Square, financial analysts are watching Egypt carefully from all corners of the world–what happens over the next few days will have massive importance not just politically, but also for world financial markets. To cover that part of the historic story unfolding in Cairo, Bloomberg TV has swarmed its international forces to the region and will be pre-empting regular programming for a live special at 6 p.m. ET tonight called "Egypt on Edge," hosted by Carol Massar and Matt Miller.

Bloomberg's focused extensive resources on the Egyptian uprising, with Lara Setrakian, known for her work on ABC News, appearing live on Bloomberg over 100 times in the past two weeks. Reporter Maram Mazen, who's reported for the network through the darker days of the uprising, is now safe after she was arrested by Egyptian authorities last week–an experience she described in detail in a first-hand report.
With the story now rapidly reaching a turning point, sources tell Mediaite Charlie Rose is on the ground for Bloomberg in Egypt, and will host a special program on Bloomberg TV at midnight.
Bloomberg anchor Margaret Brennan is en route or about to leave for Cairo.
The network's unique take on Egypt has focused on covering the economic implications of the crisis with guests including Mohamed El-Erian, CEO of the world's largest bond fund PIMCO and the Egyptian finance minister, and political angles with guests include Jamie Rubin, who worked at the State Department under President Clinton.
Watch Mohamed El-Erian's take on the outlook for Egypt's economy once the nation's political situation begins to stabilize, from Bloomberg TV:
Have a tip we should know? tips@mediaite.com