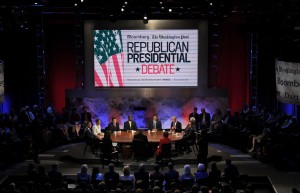 There may be some argument over who was the winner of last night's Bloomberg/The Washington Post Republican Presidential Debate, but from a media perspective, one victor is crystal-clear: Bloomberg TV. Hosting their first-ever televised debate, the finance-centric news network made the most of the opportunity, creating (and sticking to) a format that was right in its wheelhouse, and leveraging the new media effectively to compensate for its relative lack of broadcast reach.
The debate was everything a debate is supposed to be, with an appealing roundtable format, and a limited subject matter, the economy, that the moderators did not deviate from. You can always second-guess the questions and followups, but overall, they were substantive, on-topic, and eschewed the theatrics of some of the prior debates. There was no "this or that" silliness, and Newt Gingrich didn't once have to scold the moderators. The tone was so substantive that even the innovative candidate-to-candidate questioning didn't devolve into a slap-fight. While the relative lack of fireworks was disappointing from the perspective of good copy that writes itself, the debate was a refreshing change of pace for political observers weary of superficiality.
From a media standpoint, though, Bloomberg showed a keen understanding of how new media can level the playing field for a network that's available in far fewer homes (around 70 million) than its debate competitors. Their PR team kept the press updated regularly leading up to the debate, and in a simple, build-a-better-mousetrap stroke of genius, emailed near real-time transcript updates to media outlets, about every 5 minutes. It was a canny move that showed an understanding of how the new media operates, and how it could help their debate gain more exposure. Their competitors should take note for future debates.
A Bloomberg spokesman told Mediaite, "We're pleased that we delivered exactly what we said we would: a substantive debate focused solely on the number one issue in this election, the economy."
While Bloomberg isn't a Nielsen client, they did provide Mediaite with several metrics that help to illustrate how successful this debate was for them. Although a relative newcomer to social media (they increased their presence in late 2010/early 2011), they created a successful Twitter hashtag, #econdebate, that scored nearly 100,000 mentions during the debate, and Bloomberg TV & Charlie Rose were top trending terms nationally on Twitter.
Additionally, according to Bloomberg TV, Bloomberg.com saw a record amount of traffic last night.  Based on preliminary data, page views to the Bloomberg.com home page were up about 80% than the average during the 8PM hour. The number of people using Bloomberg.com's live stream player to watch the Bloomberg/Washington Post debate was the highest on record, quintupling the old mark.
Google Trends showed three debate-related topics ("999," "New Hampshire debate" and "Mitt romney") among the top 20 items trending on Google. Google confirmed to Bloomberg that having a grouping of three topics appear on Google trends at any one time is rare, and indicates that the debate made major news, and millions of Americans are waking up and seeking more information on the topic.
Although Bloomberg TV isn't quite the household name that Fox News or CNN are, their presentation and marketing of this debate were anything but bush league. Their bigger competitors could learn a thing or two from them.
Have a tip we should know? tips@mediaite.com