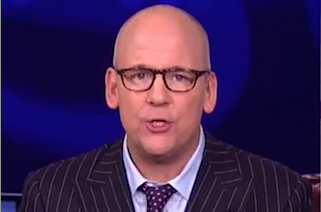 Over the weekend, prominent lawyer David Boies sent a letter to several major news organizations on Sony Pictures' behalf, demanding that they destroy material obtained from the cyber-attack on that studio and refrain from publishing content of personal emails and other documents leaked by the hackers. Among the news organizations that have covered the Sony hacking story aggressively from the beginning is Bloomberg News, which has published dozens of stories using information obtained from the leaks in the past several days.
This afternoon, on Bloomberg's With All Due Respect, host John Heilemann addressed the question, also raised by screenwriter Aaron Sorkin in his New York Times op-ed Monday, of whether or not the private conversations of Sony execs can be considered "newsworthy." Sorkin dismissed the idea that any content found in the leaked emails was "newsworthy" and said it was "morally treasonous" for news organizations to aid the hackers by printing their content.
But Heilemann was not so sure. "There are a lot of things that have been reported that would have been considered news if they had been found in another way," he said, citing the racially-charged conversation between Sony co-chair Amy Pascal and producer Scott Rudin about President Barack Obama as an example. Echoing Al Sharpton, Heilemann compared those "racist emails" to those made by former L.A. Clippers owner Donald Sterling and said no reporter would have ignored them if they had been leaked by internal employees at the studio.
Heilemann's co-host Mark Halperin reluctantly sided with Sorkin, saying the source of the information has to be taken into account before it is reported. "As I've always said, Aaron Sorkin: voice of reason," Halperin added sarcastically.
Watch video below, via Bloomberg TV:
[Photo via screengrab]
— —
>> Follow Matt Wilstein (@TheMattWilstein) on Twitter
Have a tip we should know? tips@mediaite.com