Blumenthal (Eventually) Admits To 'A Few Misplaced Words' Over Vietnam Service (VIDEO)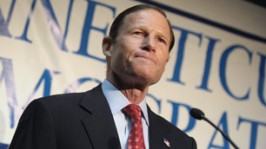 Connecticut Attorney General, and current Democratic candidate for Senate, Richard Blumenthal gave his much-anticipated press conference this afternoon to address charges published in the New York Times this morning that he had lied about his military service in Vietnam.
That is to say he eventually addressed the charges. Before he stepped up to the mic Blumenthal let a number of the actual veterans (Megyn Kelly's words) he had brought in to fill the stage do his speaking for him. The preamble went on for so long that all three cablers pulled out to consult with talking heads before returning to hear Blumenthal. When he finally got around to talking for himself, Blumenthal spent some time defending his Marine Reserve duty, noting how proud he was of he time there before quickly admitting to "a few misplaced words." It was only during the Q&A that he specified his remarks were "absolutely unintentional" and they were merely a "few misplaced words" and when pressed "I regret that I misspoke and I take full responsibility."
Blumenthal also made the always risky move of blaming the messenger. He noted that "sometimes journalists makes mistakes" when asked about the multiple stories that have referenced his supposed Vietnam service, and then slammed the NYT piece for three reasons, none of which, as far as I can tell, have any merit whatsoever:
1. The NYT made no mention of the 6 years I spent in the Reserves.
2. The article denigrates service in the Reserves.
3. The NYT implies special favors or treatment involved
At which point a reporter noted loudly that actually [the NYT] "implies you were lying." I think it's safe to say Blumenthal failed to convince a lot of people with that performance and likely just invited the entire media to dig up further "misplaced words." That said, he is still in the race. Video of the presser below. Video of the speech during which Blumenthal "misspoke" below that.


Video of Blumenthal "Misspeaking"


Have a tip we should know? tips@mediaite.com