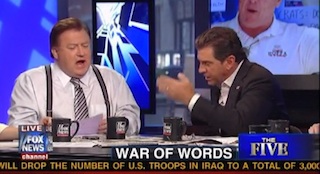 Midway through today's episode of The Five, Bob Beckel mentions that he had been pretty "upset" during that morning's meeting planning the day's show. It was clear to any audience member that, by the time of taping, he still wasn't in a great mood. Arms crossed and brow furrowed, he seemed to be visibly fuming as the other hosts trashed any "intellectual" who dared speak out against the Tea Party or tried to argue that name calling is the "only strategy of the Left." However, his apparent anger only really surfaced during a segment on Jimmy Hoffa's controversial comments from this weekend, as he and Eric Bolling got into a very heated argument.
After Bolling's exhaustive (and exhausting) run down of every element of the story (President Obama's reaction, Vice President Biden's concurrent speech, Debbie Wasserman-Schwartz's Fox & Friends appearance, etc.) he asked Beckel his thoughts and Beckel said that, while he wouldn't have used those words, he agreed with Hoffa's basic intent. However, as the segment continued, he seemed to get more and more annoyed until he asked his co-hosts how they felt about continuously calling the President a "socialist," an insult he called disgraceful and disgusting. Bolling tried to counter, asking if Beckel knew the definition of "socialism" and soon voices were raised with Beckel ordering him to answer whether or not he thought Obama was a socialist.
Things got so tense that, at the end of the next segment on the possible postal service crisis, Bolling made sure to remind the audience that he and Bob were friends no matter how it appeared. Beckel responded by making a joke under his breath.
Watch the clip from Fox News below:
Have a tip we should know? tips@mediaite.com