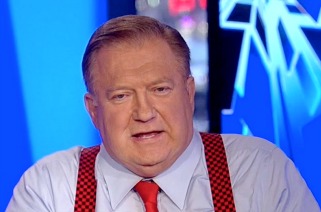 As we first reported earlier this afternoon, Fox News has parted ways with The Five co-host Bob Beckel.
Initially, the cable news outlet told Mediaite that the split was "amicable," but shortly thereafter, Fox News exec Bill Shine released a statement saying The Five could no longer be held "hostage to one man's personal issues." (Beckel had been out for several months, recovering from surgery and undergoing rehab treatment for prescription medication addiction.) "He took tremendous advantage of our generosity, empathy and goodwill and we simply came to the end of the road with him," Shine added, putting an end to the idea that this was "amicable."
Beckel himself had been quiet until this evening, when he spoke out on Twitter:
I am no longer on The Five or with Fox. Fox statement today baffles me. I will respond in the appropriate forum. I will miss you all.

— Robert G Beckel (@RobertGBeckel) June 25, 2015
This likely isn't the last we'll hear from Beckel on the matter.
UPDATE — 8:35 p.m. ET: And it wasn't, because Beckel tweeted out hours later he couldn't understand the "anger" in Fox's statement:
I just can't understand the anger in Fox statement. I was healing from major back surgery i could not walk, I took no advantage I got well

— Robert G Beckel (@RobertGBeckel) June 26, 2015
Fox has been good to especially when I was healing. I guess I'll never understand their anger It is all so very sad

— Robert G Beckel (@RobertGBeckel) June 26, 2015
Thank u for thousands of Tweets not angry but very very sad Where I go from here is in Gods hands

— Robert G Beckel (@RobertGBeckel) June 26, 2015
— —
Have a tip we should know? tips@mediaite.com