Bob Beckel Calls On Obama To Address Zimmerman Trial, Inform Nation 'It's Not About Black And White'
Beckel Calls On Obama To Address Zimmerman Trial, Inform Nation 'It's Not About Black And White'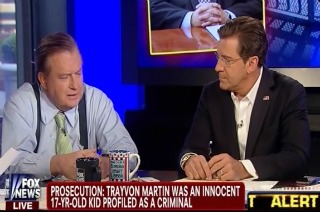 On Thursday's The Five on Fox News Channel, co-host Bob Beckel expressed his concerns about the racial tensions intrinsic to the trial of George Zimmerman for the 2012 murder of Trayvon Martin. He said that President Barack Obama should address the complex racial issues involved in the trial and inform the public that "it's not about black and white."
Greg Gutfeld opened the segment insisting that the Zimmerman trial has become a story of "two cases."

"We have one case in court, which is about a fight between two individuals, and a case outside of court, which is a fight between law enforcement and the perception of aggrieved groups that are demanding justice," Gutfeld said. "When those things get tangled up we have a problem."
He referenced an editorial by Juan Williams who identified bad behavior by both Zimmerman and those who insist on his conviction.
RELATED: Predictions Of Riots If Zimmerman Acquitted Display Appalling Lack Of Faith In Black Community
"There is a time now, it seems to me, for the civil rights leaders and for the President of the United States — because there will be a jury decision next week — somebody will say this is not about black and white," Beckel said.
Eric Bolling thought that this was an unfair request. He referenced a recent column in Mediaite which asked why the black community is not more offended by the notion propagated by some in the media that there will be violent riots in the event that Zimmerman is acquitted.
Beckel said that he believes the facts of the case indicate that Zimmerman was not motivated to shoot Martin due to his race. He added that commentators have a responsibility to not inflame racial tensions when discussing the trial.
Watch the clip below via Fox News Channel:
> >Follow Noah Rothman (@NoahCRothman) on Twitter
Have a tip we should know? tips@mediaite.com