The Five's Bob Beckel Goes Ballistic On Allen West: 'Shut Up, You Blowhard!'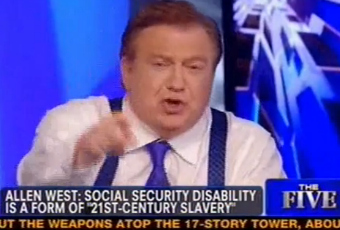 On Tuesday's edition of Fox News' The Five, the panel debated whether Americans have become too dependent on government assistance today — with liberal co-host Bob Beckel being the lone dissenter on the notion. When the rest of the hosts played a clip from Rep. Allen West (R-FL) reinforcing their point, calling Social Security "modern 21st-century slavery," Beckel went on a tirade, telling the congressman to "shut up" while calling him a "blowhard."
Greg Gutfeld made the case that Republican nominee Mitt Romney needs to make clear the difference between himself and President Barack Obama, emphasizing the question: "Do you see the average American as an achiever or an ATM?"
– RELATED: The Five Explodes Over Allen West's 'Get The Hell Out Of The United States' Comment
Eric Bolling then threw to a Rep. West sound-bite that he believes sums it up nicely. "Here we go," Beckel grunted as the tape rolled:
Just this past month, the 85,000 went on Social Security disability as opposed to 80,000 jobs created. So we are creating this sense of economic dependence that is, to me, a form of modern 21st century slavery.
"Shut up," Beckel said. "Just shut up you blowhard." Mediaite readers and frequent Five viewers may recall that Beckel has quite the negative view of the Rep. West.
"That is one of the most obscene comments — even for you, that's an obscene comment, West," he continued. "Why do you say something like that? These people went on disability because they were hurt. What about you? You shoot your mouth off — that hurts a lot of people."
Andrea Tantaros then tried to call for an image that "sums up the contrast between Mr. Bob Beckel and Colonel Allen West," but the control room accidentally played out a clip of Obama administration officials talking about outsourcing and Romney.
The non-liberal hosts then proceeded to defend Rep. West's comments from Beckel, with Gutfeld saying, "The great thing about Allen West: He is having fun tweaking the left with the same language that the left has used for decades."
"You think that's a tweak?" Beckel interjected. "That is disgraceful."
– RELATED: The Five's Bob Beckel Refuses To Apologize To Rep. Allen West

"You are no different than Allen West," Gutfeld shouted back. "You have said things far worse than he has. On this show!"
"Slavery?" Beckel said, referring to West's remark. "It's called a metaphor, Bob," Gutfeld retorted.
Eventually, the image Tantaros requested earlier had appeared: a side-by-side comparison of Beckel in his hippie Halloween costume, and Rep. West in his official military garb. "I'll tell you what: there's more intelligence in that headband that I've got on than the guy to the right."
Watch the clip below, via Fox News:
>> Follow Andrew Kirell (@AndrewKirell) on Twitter
Have a tip we should know? tips@mediaite.com