Bob Beckel On Bobby Jindal SOTU Response: 'Reminded Me Of A Call Center Ad From Mumbai'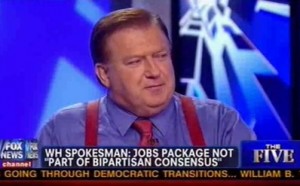 Fox News in-house Democratic analyst Bob Beckel flummoxed his The Five co-stars yesterday with a racist remark about Louisiana Gov. Bobby Jindal that comes right on the heels of his invocation of "Chinamen" on the same Fox program. Speaking about the Republicans' lack of a formal response to tonight's presidential address, Beckel reminisced about Jindal's 2009 post-SOTU response, saying, "It reminded me of a call center ad from Mumbai."

About three weeks ago, Beckel channeled his inner Al Swearengen when he tried to dig his way out of a "redneck" comment by explaining that "Chinamen" can be rednecks, too. At the time, he confirmed what many conservatives think when he said, "I'm a liberal, I can get away with this stuff."
There may be some truth to what Beckel said. His Mumbai remark is superficially similar to some insensitive remarks that then-Senator Joe Biden made about Indian-Americans, and although Biden's remarks were widely-reported, he obviously didn't pay much of a political price for them. On the other hand, conservative provocateur Ann Coulter also took a swipe at Jindal's nationality that barely registered, certainly not with conservatives.
In Beckel's case, his status as a "Fox News Liberal" won't likely afford him much cover on the left, but he's similarly unlikely to pay much of a price for this. Unlike other organizations that fire or suspend people for inflammatory remarks, Fox News has already staked out a live-and-don't-fire position on this kind of thing with their defense of Juan Williams. Time will tell if The Five's audience agrees.
I'm also generally not in favor of speech-related firings, but a remark like this merits an explanation, an apology, and some provocative discussion. Also, Beckel needs to stop saying that being a liberal has anything to do with this kind of thing. He obviously hasn't read the updated handbook.
Here's the clip, from Fox's The Five:
(h/t)
Have a tip we should know? tips@mediaite.com