Fox's Bob Beckel On Olympic Uniform Controversy: 'I Don't Trust [The Chinese] Worth A Damn'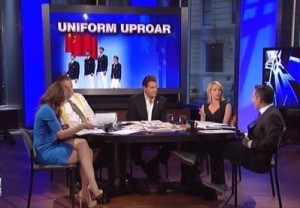 The London Olympics are fast-approaching, and today a controversy erupted over where the U.S. Olympic team's uniforms were made in: China. Politicians have been taking umbrage at this controversy all day, and on Fox News earlier, the hosts of The Five weighed in on the story, and there were some mixed feelings about the importance of the controversy. Greg Gutfeld admitted he couldn't get that outraged over this, joking that the United States should also outsource its Olympic competitors to China.
RELATED: Sen. Harry Reid On U.S. Olympic Uniforms Made In China: 'Burn Them'
As for the berets being worn by the U.S. Olympic team, Kimberly Guilfoyle said they looked too "Frenchy" to represent the American team at the Olympics. Her opinion wasn't anything personal against berets, she just thought it didn't fit in well with the history of uniforms the U.S. team has one at the Olympics.
Bob Beckel saved his comments for the Chinese manufacturers of the uniforms.
"They are so competitive, they probably would have put downers in the fabric to hurt our athletes… I don't trust them worth a damn, and I tell you, I wouldn't let anything be done over there."
Beckel continued, saying that Islamic terrorists are not nearly as great a threat to the United States as China.
Perino recalled that this wasn't that big of a controversy four years ago, and wondered why the U.S. team didn't just look for an American manufacturer for the teams in the first place. Eric Bolling laughed at the premise of the entire segment before saying the Olympic team could do whatever they want since they're not using taxpayer money. Bolling admitted he couldn't really see the big deal, while Beckel continued to insist he simple can't trust the Chinese.
Watch the video below, courtesy of Fox News:
—–
Follow Josh Feldman on Twitter: @feldmaniac
Have a tip we should know? tips@mediaite.com
Josh Feldman - Senior Editor