Bob Beckel On Red Eye Hijacks Discussion To Talk About Cocaine, Violent Persians And Glenn Beck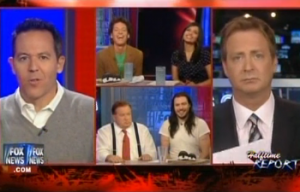 The appeal of Fox News' Red Eye is that it often is an anything-goes nightly discussion of whatever topic host Greg Gutfeld presents to his panel. Last night, Bob Beckel joined his The Five co-host, and demonstrated just how much freedom Red Eye guests are granted. Beckel, clearly bored with the designated topic, somehow managed to turn the conversation about an offensive character in the movie Breakfast At Tiffany's, into an enjoyable tirade about his hatred of cats, a past out-of-control addiction to cocaine, and a mention of Glenn Beck that he apologized for, since he realized maybe he shouldn't be saying Beck's name anymore.
Gutfeld began wondering if a boycott for a park showing of the movie Breakfast At Tiffany's was justified given that Mickey Rooney portrayed an offensive Asian character. Beckel eventually responded to the inquiry saying "if you don't like it, if you're sensitive, don't take your kids to the damn thing." But he was much more interested in sharing why he hates cats ("they always look like they know more than you do") and why he's never actually watched Red Eye before (since he doesn't do cocaine anymore, he now sleeps at night). And as an aside, Beckel joked most other movie stereotypes are often true, for instance Persians are violent and Italians are connected to the mob.
Beckel was clearly enjoying the loose format of the show and when musician Andrew W.K. commented on the offensive stereotype "just because something hurts your feelings doesn't mean that you can cancel it out of existence," Beckel responded "does that include Glenn Beck" before quickly following it up with "I'm sorry, I forgot we're on Fox." Later Andy Levy rains on Beckel's claim that somehow Rooney gave Walt Disney the idea to name his mouse "Mickey," but Beckel managed to change the topic back to something he was more comfortable discussing. He admitted he locked a case of cocaine in a bank somewhere and can't remember where it is. Bill Schulz suggested Beckel "retrace your snorts!"
And that's the story of how an innocent conversation about a classic movie collapsed into an entertaining discussion about drugs, violence and Glenn Beck.
Watch the clip from Fox News below:

Have a tip we should know? tips@mediaite.com