Bob Beckel: Would The 5 Be Doing A Story On The Missing Woman In Aruba If She Were Black?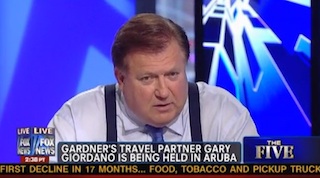 One of the most interesting things about watching Fox News' The Five is that each hosts seems to have some input in what stories they cover but not which ones the rest do. There are frequent jokes about whose segment got the most time and they sometimes make it abundantly clear when a story isn't their cup of tea (witness Greg Gutfeld laying his head on the table or Bob Beckel playing cell phone games). Beckel clearly was not all too interested in discussing last month's disappearance of Robyn Gardner in Aruba. He spent the whole segment making jokes about the suspect's appearance and the dangers of online dating and then, at the end, he wondered allowed if they'd even be talking about this if Gardner were black.
"The other thing I might say is that this is now, how many? The 99th blonde woman we've done a story on over the years that's missing. I'm just curious if this was somebody, for example, who was black and was missing, would we be doing a story about this? Every time we do one of these stories it's a good looking blonde woman who disappears."
Whether it was that comment or his request to see a picture of Gardner in her "prom dress," Kimberly Guilfoyle (or a producer in her ear) was not amused, quickly moving on to the next segment. Beckel joked about the abrupt switch later in the show.
Watch the clip from Fox News below:
Have a tip we should know? [email protected]