Bob Beckel's Silver Tongue Strikes Again On The Five: Joy Behar Is 'Ugly As Sin'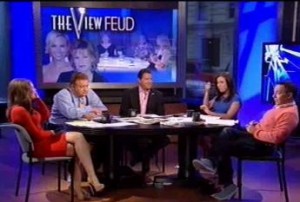 Can we just say right here and now that there is no one on cable TV quite like Bob Beckel? has absolutely no filter to speak of. He's willing to drop an f-bomb or two every now and then, and no one speaks off-the-cuff quite like him. In the middle of a segment where the hosts were criticizing Joy Behar for trying to link John Edwards and Mitt Romney, Beckel admitted he has never heard of Behar before, but remarked that she looks "ugly as sin." Oh, Bob.
RELATED: Bob Beckel: In High School Today, The Guys Look Like Drug Dealers And The Girls Look Like Hookers
Andrea Tantaros segued into the Edwards-Romney talk and what the ladies at The View had to say about the two people. Behar said both men were very similar beyond their good hair, and Elizabeth Hasselbeck fired back by saying you can't possibly compare a family man like Romney to the sleazy Edwards. Eric Bolling reacted to the clip by pointing out that Romney has been criticized for being too stuck-up, as it were.
A few minutes later into the conversation, Greg Gutfeld observed that even groups that may have been just a little sympathetic to Edwards have not touched this thing with a ten-foot pole. Tantaros brought up Behar again as someone who is trying to "drag Romney down" with him, and that's where the magic of Bob Beckel flew in. He professed to having never heard of her before, and despite the fact that the conversation had been going on for several minutes already, it was at that moment that he decided to interject and admit he has no idea who they're talking about!
When the other hosts tried to help him out, Beckel remarked, "She looks ugly as sin." Ouch.
The other hosts groaned, and Gutfeld tried to help him out by suggesting he may have meant she was "metaphorically ugly," which Beckel immediately sprang on. Um, shouldn't he maybe know the people he's going to be talking about on-air? You know, so he doesn't end up insulting them randomly for, seemingly, no reason whatsoever?
RELATED: The Five's Bob Beckel Recalls The Time He Burned Down His Neighbor's Garage
Oh, never mind. This stuff is too funny. Keep doing what you're doing, Bob.
Watch the video below, courtesy of Fox News:
Have a tip we should know? tips@mediaite.com
Josh Feldman - Senior Editor