Jerry Sandusky Tells Bob Costas: 'No, I'm Not Sexually Attracted To Young Boys'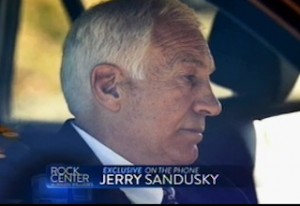 On Monday night's Rock Center, Brian Williams' new weekly news magazine, Bob Costas conducted a tough telephone interview with accused child rapist Jerry Sandusky, the focal point of a cover-up that has resulted in the firing of Penn State football coach Joe Paterno. While Sandusky maintained his innocence, the interview served up a number of clues to help the audience judge Sandusky's credibility, and Sandusky'a attorney provided some insight into his defense.
The Penn State story is excruciating to contemplate, and while Sandusky is due the legal presumption of innocence, there is no disputing that Joe Paterno was part of a long chain of Penn State officials who failed to report eyewitness allegations of child rape by Sandusky, who is now under a 40 count indictment.
That legal presumption of innocence doesn't shield Sandusky from the rigors of journalistic inquiry, a point which Costas and Brian Williams underscored repeatedly. In an interview that was incredibly hard to listen to, Sandusky's replies to Costas' relentless questioning reeked of sophistry and untruth, and in one case, a damnation by faint, discordant denial.
Confronted with the 40 count indictment, Sandusky proclaimed his innocence, to which Costas replied, "Innocent, completely innocent and falsely accused in every aspect?"
Sandusky then made several "concessions" that will likely form the basis for the reasonable doubt he hopes to raise in his defense, but selling them as "reasonable," to anyone who has ever been a child, or been a parent, is a steep climb. "Well, I could say that, you know, I have done some of those things," Sandusky said. "I have horsed around with kids. I have showered after workouts. I have hugged them and I have touched their leg. Without intent of sexual contact. So if you look at it that way, there are things that wouldn't — you know, would be accurate."
In one of the more sickening parts of the interview, Sandusky gave his account of the event witnessed by assistant coach Mike McQueary, who says he saw Sandusky raping a 10 year-old boy in the shower at Penn State. Unable to explain why McQueary would lie about such a thing, Costas asked Sandusky what did happen when McQueary encountered him and the boy. Just in case anyone doubts the veracity of Sandusky's version, he helpfully uses the term "actually" twice, just to underscore the actualness of what actually happened. Sandusky told Costas, "Okay. We were showering and horsing around, and he actually turned all the showers on and was actually sliding across the floor and we were, as I recall, possibly like snapping a towel, horseplay."
Costas continued to grill Sandusky for several minutes, and Sandusky's replies continued to sound like those of a man looking to muddy the accusations against him, and not those of an outraged, unjustly accused man. Toward the end of the interview was a particularly telling exchange. Note the distance between Costas' question, and Sandusky's use of the word "no."
Costas asked Sandusky, "Are you sexually attracted to young boys, to underage boys?"
"Am I sexually attracted to underage boys?" Sandusky repeated, perhaps not hearing Costas.
"Yes."
After a too-long pause, Sandusky said, "Sexually attracted? You know, I enjoy young people. I love to be around them. But no, I'm not sexually attracted to young boys."
Sandusky attorney Joe Amendola appeared with Costas, and claimed that he expected "several" of the victims in the indictment to come forward and defend Sandusky, including the one that McQueary says he saw being raped in the shower by Sandusky. Amendola also told Costas that he would have no problem entrusting his own children to Jerry Sandusky.
Even without having read that stomach-turning indictment, Sandusky's lame claims of "horseplay," his account of the shower incident, and his hesitant denial ring aren't likely to convince anyone who has ever been a 10 year-old boy, or the parent of one.
Here's the interview, from NBC News' Rock Center:
Update: Reuters is already misreporting what Sandusky's lawyer said.
Here's a transcript of the relevant portion:
Bob Costas: You said a few days ago much more is going to come out in our defense. in broad terms, what?

Joe Amendola: We expect we're going to have a number of kids, now how many of those so-called eight kids we're not sure, but we anticipate we're going to have at least several of those kids come forward and say "this never happened. This is me. This is the allegation, it never occurred."

In fact one of the — one of the toughest allegations that, the McQueary violations, what McQueary said he saw, we have information that that child says that never happened. Now grown up.

Bob Costas: Until now we were told that that alleged victim could not be identified. You have identified –

Joe Amendola: We think we have.

Bob Costas: So you have found him, the commonwealth has not?

Joe Amendola: Interesting, isn't it?
Click here to see how Reuters reported that portion of the interview.
Have a tip we should know? tips@mediaite.com