Bob Costas Responds To Criticism: When Has An Athlete Owning A Gun Ever Made A Bad Situation Better?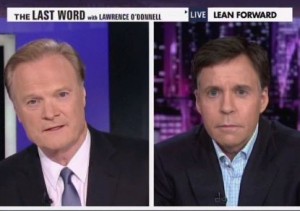 NBC sportscaster Bob Costas appeared on Lawrence O'Donnell's show tonight to respond to the growing controversy over comments he made Sunday night over the murder-suicide committed by NFL linebacker Jovan Belcher and gun control. Costas made it clear he was not trying to advocate for gun control, despite his personal belief that there should be some stricter gun control laws, but did say that more often than not, having a gun in a bad situation is more likely to make it worse than make it better.
RELATED: Bob Costas: 'Mistake' To Make Controversial Gun Comments During Halftime Report
Costas explained that he was trying to find a different way to cover the tragedy than other sports shows have, and he rationalized that "easy access to guns" and the problematic "gun culture" in the United States is an important factor in discussing the murder-suicide.
He acknowledged that he did not have enough time to convey the "nuance" of the argument, and made it clear he was not advocating gun control. He explained how a surprisingly large number of NFL players own guns, and said that such a big number of aggressive young men in their 20s and 30s owning guns is somewhat problematic.
"Give me one example of an athlete… who by virtue of his having a gun took a dangerous situation and turned it around for the better. I can't think of a single one. But sadly, I can think of dozens where by virtue of having a gun, professional athletes… have wound up in a tragic situation."
O'Donnell played a clip of Bill O'Reilly arguing in favor of personal responsibility and against blaming society or guns for what Belcher did. Costas said he largely agrees with O'Reilly, but the simple fact to him was the "easy availability of guns" makes such incidents more likely to occur.
Watch the video below, courtesy of MSNBC:
—–
Follow Josh Feldman on Twitter: @feldmaniac
Editor's note: This post has been edited since its original posting – Jon Nicosia
Have a tip we should know? tips@mediaite.com
Josh Feldman - Senior Editor