Bob Costas Decries Gun Culture During Sunday Night Football Halftime, Pro-Gun Twitter Backlash Ensues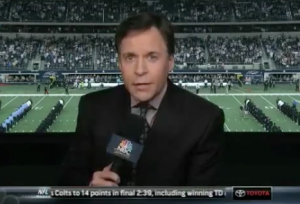 Veteran broadcaster Bob Costas became the subject of pro-gun ire Sunday night when he offered up his thoughts on the tragic murder/suicide committed by Kansas City Chiefs linebacker Jovan Belcher Saturday morning. Belcher shot and killed Kasandra Perkins, his girlfriend and the mother of his child, then drove to the Chiefs' practice facility and committed suicide in front of his coach and general manager. At the end of the Sunday Night Football halftime show, Costas weighed in on the tragedy by quoting, and endorsing, a column by Kansas City sportswriter Jason Whitlock that decried "our gun culture," and denounced handguns.
Just before the start of the second half of NBC's Sunday Night Football game between the Dallas Cowboys and the Philadelphia Eagles, Bob Costas delivered a brief commentary on the tragedy. "Well, you knew it was coming," Costas began. "In the aftermath of the nearly unfathomable events in Kansas City, that most mindless of sports clichés was heard yet again: 'Something like this really puts it all in perspective.'"
"Well if so," he continued, "that sort of perspective has a very short shelf life, since we will inevitably hear about the perspective we have supposedly again regained the next time ugly reality intrudes upon our games. Please. Those who need tragedies to continually recalibrate their sense of proportion about sports, would seem to have little hope of ever truly achieving perspective. You want some actual perspective on this? Well, a bit of it comes from Kansas City-based writer Jason Whitlock, with whom I do not always agree, but who, today, said it so well that we may as well just quote or paraphrase from the end of his article."
Costas then quoted, with little deviation, from Whitlock's column, saying "'Our current gun culture,' Whitlock wrote, 'ensures that more and more domestic disputes will end in the ultimate tragedy, and that more convenience store confrontations over loud music coming from a car will leave more teenage boys bloodied and dead. Handguns do not enhance our safety. They exacerbate our flaws, tempt us to escalate arguments, and bait us into embracing confrontation rather than avoiding it. In the coming days, Jovan Belcher's actions and their possible connection to football will be analyzed. Who knows? But here,' wrote Jason Whitlock, 'is what I believe: 'If Jovan Belcher didn't possess a gun, he and Kasandra Perkins would both be alive today.'"
The backlash from pro-gun viewers was immediate, as chronicled by the conservative website Twitchy.com, who accused Costas of "hijacking" the broadcast, perhaps an example of the perspective that Costas was referencing. The site, under a staff byline, also characterized Costas' commentary as a "patronizing sermon about the need for gun control in the aftermath of the Jovan Belcher shootings."
Similarly, and perhaps most prominently. Fox News Senior Political Analyst Brit Hume tweeted "Bob Costas quotes KC sportswriter to make gun control case re: Jovan Belcher murder/suicide. Cites all known gun control cliches."
Lost on the outraged likes of Hume and Twitchy is the fact that, although Whitlock's column referred to the Second Amendment as a "threat" to our liberty, nothing in Bob Costas' commentary remotely suggests "gun control," unless Bob Costas' power of persuasion constitutes "control." There's no mention of changing laws, or enforcing existing laws, or restricting gun ownership in any way, just one man's opinion about the lethal consequences of American gun culture. If you're a conservative, that act is akin to a terrorist attack, because guns don't kill people, single parents, low-character "inner-city" folk, and people with autism kill people.
There's a reason the 2nd Amendment is called that; because the one Bob Costas was using comes first.
Here's the clip, from NBC:
Follow Tommy Christopher (@TommyXtopher) on Twitter.
Have a tip we should know? tips@mediaite.com