Bob Dylan's Incredible Channel-Surfing Music Video Features Drew Carey, Fake Cable News Show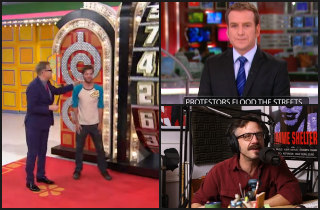 Bob Dylan is the latest artist to get in on the interactive music video trend. And, boy, did he not disappoint.
Behold: Dylan's first official music video for his 1965 hit "Like a Rolling Stone," in which viewers use their keyboard to flip through various fake television channels, featuring people mouthing along to the lyrics while acting out their respective TV programming. Some of the shows are entirely fictional; others are very real shows featuring their very real cast members.
On one channel, Drew Carey hosts The Price is Right while lip-syncing about a diplomat carrying on his shoulder a Siamese cat; on another, comedian Marc Maron hosts his radio show; and on another, the cast of Pawn Stars negotiates a price while mouthing the lyrics. ESPN coverage of a tennis match also appears on one channel, as well as a kids' cartoon show, a fake cooking show, an HGTV show, a History Channel doc, a cable news broadcast, a reality dating show, and rapper Danny Brown eating a variety of foods (including matzo) while lip-syncing.
The whole thing is gloriously bizarre; and inscrutable in the way that only Bob Dylan can pull off. Some critics might complain this cheapens the sanctity of Dylan's persona, but they clearly haven't watched the video or become familiar with his history of relishing in the unpredictable.
Bonus for those with curious eyes. Here are some of the Internet's other great examples of interactive videos: Death Grips' "I've Seen Footage," Arcade Fire's "Sprawl II (Mountains Beyond Mountains)," Queens of the Stone Age's "Vampyre of Time and Memory,"
Ah, how does it feel? Well, watch the video below and find out, via Bob Dylan:
Here's hoping for an interactive video for "Brownsville Girl" in which users stand in line to see a movie starring Gregory Peck before flashback-ing to various memories of an ex-lover and interact within those dream sequences. Your welcome. Send your checks to andrew@mediaite.com
— —
>> Follow Andrew Kirell (@AndrewKirell) on Twitter
Have a tip we should know? tips@mediaite.com