Bob McDonnell Offers Ideas On How Republicans Can Define Paul Ryan For Independent Voters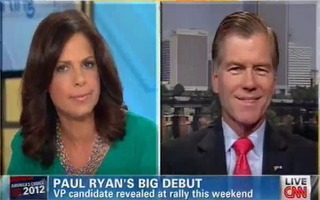 On Monday, Virginia's Republican Gov. Bob McDonnell appeared on CNN with Soledad O'Brien to discuss the selection of Rep. Paul Ryan (R-WI) to join Mitt Romney as the Republican vice presidential nominee. There, McDonnell was asked about a recent poll that showed most voters either don't know Ryan or have no opinion on him and how the GOP can define Ryan positively for those voters. McDonnell offered a few ideas for how he thinks the Romney campaign will attempt to define Ryan for voters.

RELATED: Romney/Ryan Talk Bain, Budget Plan And Campaigning In 60 Minutes Interview
McDonnell was asked why he is excited about Ryan's selection to be Romney's running mate. He answered saying that Ryan understands the key problems facing the nation better than any other lawmaker in Washington.
"Paul Ryan is a guy that understands the federal budget perhaps better than anybody," said McDonnell. "I think he's the right guy and I was pretty fired up in Norfolk on Saturday."
O'Brien asked McDonnell about the results of a recent poll of independent voters who described Ryan as slightly more favorable than unfavorable, but the majority of whom had never heard of him or had no opinion. "That moves, I would think, the budget and Medicare conversations right to the forefront of defining who Paul Ryan is," said O'Brien. "Is that good for you or is that bad for you?"
McDonnell answered the question by saying that the Republican convention at the end of August would go a long way towards defining Ryan for late deciding voters. McDonnell did not directly address if reforms to Medicare would help or hurt the Romney/Ryan ticket.
O'Brien went on to cite another poll that showed two thirds of voters saying that they believe Mitt Romney would do more to help wealthy Americans than the middle class.
"We are in a difficult time for the greatest country on earth, and the President is talking about issues that really don't resonate with the people," said McDonnell. "What Paul Ryan brings to the ticket is a serious conversation about debt, taxes, spending, energy, entitlement reform – these are the things that will determine what kind of country we've got for our kids and our grandkids."
McDonnell went on to say that, when independent voters realize the scope of the problems facing the U.S., they will warm to Ryan's reform proposals.
Watch the segment below via CNN:
> >Follow Noah Rothman (@Noah_C_Rothman) on Twitter
Have a tip we should know? tips@mediaite.com