Bob Schieffer Confronts Obama Staffer Who Said Romney Either Lied Or May Have Committed Felony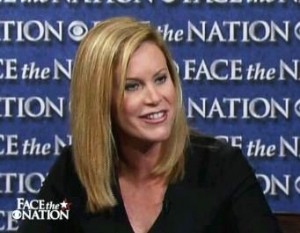 On Face the Nation today, Bob Schieffer grilled Stephanie Cutter, the deputy campaign manager for President Obama who said last week that Mitt Romney is either misleading voters with his claim that he ended his leadership role at Bain Capital in 1999, or he printed false information on SEC filing forms in subsequent years, which would constitute a felony. Cutter did not repeat the charge, but continued to note the discrepancy between what Romney has been telling people and the information contained in the SEC filings.
RELATED: Ed Rendell On Team Obama's Bain Attacks: 'Went A Little Bit Too Far With The Felony Business'
Schieffer told Romney advisor Kevin Madden that it's unclear why Romney would have his name on documents after leaving the company. Madden immediately went after Cutter, condemning her suggestion Romney could have been a felon, before explaining Romney had a "duty" to sign the documents during a transition period. He said the Obama campaign has been trying to distract the electorate by making a big deal out of this story.
Cutter argued that if Romney was signing documents clearly stating he was the head of the company, "what world are you living in that you're not in charge?" She then reiterated the same point she made last week, that between the information given to the SEC and what Romney has been telling voters, "one of those things is not true." Cutter acknowledged that people aren't really that interested in the specifics or semantics of the argument, but explained why the Obama campaign is putting so much focus on Romney's background.
"He has put for his being president, his experience at Bain Capital, and that every decision he'll make as president should be seen through the lens of his experience at Bain Capital. And we're just getting a taste of that… Those are legitimate discussions to have particularly because Mitt Romney put them on the table."
Schieffer asked Madden why Romney has only released his tax returns from 2010, and not going back a few years earlier. Madden said Romney has gone "above and beyond" what is required of him by campaign financial disclosure, suggesting that the Obama campaign has been able to attack Romney on the financial front because of what has already been disclosed. Cutter cut in to say Romney went back and edited information in his financial disclosure forms.
RELATED: Bill Clinton On Today: Voters Should Decide For Themselves If Overseas Tax Shelters Matter In Election
Cutter argued that while no one is suggesting Romney hasn't followed the law, to which Schieffer reminded Cutter of her "felony" comment last week. Cutter responded by coming down on the side that Romney has been misleading the American people rather than repeating the felony charge, and insisted the Romney campaign should not be expecting an apology for what she said.
Watch the video below, courtesy of CBS:
Have a tip we should know? tips@mediaite.com
Josh Feldman - Senior Editor