Bob Schieffer Says Obama's Speech 'One Of The Best,' Compares Taking On Gun Lobby To WWII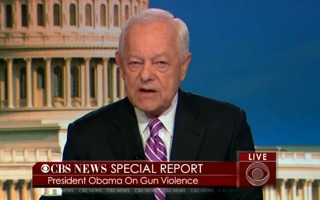 CBS Chief Washington Correspondent and anchor of Face the Nation, Bob Schieffer, applauded President Barack Obama's move Wednesday to sign executive orders attempting to address gun violence in America. Schieffer said that Obama's speech announcing the orders was "one of the best speeches I've heard him deliver." He went on to say that the nation was at a crossroads because the massacre at Newtown was the most traumatic experience Americans had faced since September 11, 2001. Taking on America's pro-gun interests is accomplishable, he added, because it is a less formidable task than passing civil rights legislation or defeating Nazi Germany in World War II.

RELATED: Here Are The 23 Executive Actions Pres. Obama Just Signed To Curb Gun Violence
"Let's remember, there was considerable opposition when Lyndon Johnson went to Congress and passed – presented – some of the most comprehensive civil rights legislation in the history of this country," noted Schieffer. "Most people told him he couldn't get it done, but he figured out a way to do it. And that's what Barack Obama is gonna have to do."
"What happened in Newtown was probably the worst day in this country's history since 9/11," Schieffer added. "Surely, finding Osama bin Laden, surely passing civil rights legislation – as Lyndon Johnson was able to do – and, before that, surely defeating the Nazis was a much more formidable task than taking on the gun lobby."
"This is a turning point in this country," Schieffer continued. "The president is going to have to do more than just make a speech about it."
While was clear that he believes there is more work to do, Schieffer praised Obama's speech as "one of the best speeches I've ever hear him deliver."
"But it's going to take more than that from the White House," Schieffer added. "He's going to have to get his hand dirty, he's going to have to get in there and work this problem until he gets it done. "
Schieffer concluded by saying that "he thinks there is hope" that stricter gun laws will be enacted in the wake of the tragic massacre in Newtown, Connecticut.
Watch the clip below via CBS:
> >Follow Noah Rothman (@Noah_C_Rothman) on Twitter
Have a tip we should know? tips@mediaite.com