Bob Schieffer Smacks 'Disconnected' House: Congressmen Used To Want To 'Do Something'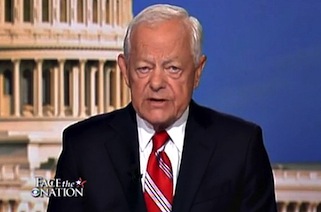 Bob Schieffer excoriated the Republican-led House of Representatives in an address on Face the Nation Sunday morning, lamenting that "Washington has changed since I came here forty-four years ago," and faulting a preference of style and status over substantive lawmaking.
"Last week's defeat of the farm bill is an example of how [Congress] can't do anything, even when they want to," Schieffer said. "House Republican leaders thought they had the votes to pass the bill, but sixty Republicans suddenly turned on their leaders because they thought public programs needed to be cut even more. They joined forces with a group of Democrats who opposed the bill because they thought the programs had been cut too much. So the whole thing collapsed, nobody got anything, and nothing got done—a sentence you could use to describe most Capitol Hill weeks.
The farm bill is a perennial piece of legislation in which food stamp funding is tied to farm subsidies; because lawmakers are loath to vote against farmers, the SNAP program's existence is guaranteed. This year, however, House Republicans attempted to slash the food stamps budget by $2 billion per year, and added on work thresholds, drug testing, and more, causing many Democrats to balk at the bill.
"Many House members, especially, have come to live in a world unknown and disconnected to the rest of us," Schieffer continued, citing frequent vacations and endless press releases. "Nothing that affects the rest of us ever gets done."
"It's obvious they want to be something—a member of Congress. But when I came to Washington, most members wanted to be do something. When did that go out of style?"
Watch the statement here, via CBS:
—
>> Follow Evan McMurry (@evanmcmurry) on Twitter
Have a tip we should know? tips@mediaite.com