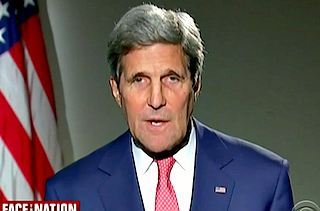 Face the Nation's Bob Schieffer asked Secretary of State John Kerry whether or not we were at war with ISIS, a question aired almost simultaneously with the exact same query asked of White House Chief of Staff Denis McDonough by ABC News' Martha Raddatz. The confusion stems from crosstalk among administration officials over whether the proposed military operations against ISIS constituted war or "war."
For his part, Kerry told Schieffer that anybody could call it whatever they wanted if it ended the discussion and returned focus to the actual operations.
"I think there's a kind of tortured debate going on about terminology," Kerry said. "If people need to find the place to land? In terms of what we did in Iraq, originally, this is not a war, this is not combat troops on the ground, it's not hundreds of thousands of people. It's not that kind of mobilization. But, in terms of al Qaeda, which we have used the word 'war' with, yeah. We were at war with al Qaeda and its affiliates. And in the same context, if you want to use it, yes, we're at war with ISIL, in that sense."
"But I think it's a waste of time to focus on that," Kerry said. "Let's consider what we have to do to degrade and defeat ISIL, and that's what i'm frankly much more focused on.
Watch the clip below, via CBS News:
[Image via screengrab]
——
>> Follow Evan McMurry (@evanmcmurry) on Twitter
Have a tip we should know? tips@mediaite.com