Bob Schieffer To Ron Paul: Minus Your People, I Don't See Much Enthusiasm With The GOP Field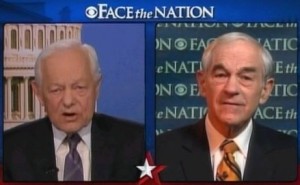 On Face the Nation today, Bob Schieffer told Congressman Ron Paul that he agrees with the idea that Paul is a consistent, principled politician who believes what he says. And this has certainly given Paul a strong base of supporters in the caucuses and on the internet. But with the exception of Paul's loyal following, are any Republicans really that enthusiastic about the presidential race given how lackluster they consider candidates like Mitt Romney to be?
RELATED: Ron Paul: 'If Enthusiasm Wins Elections, We Win Hands Down!'
Paul noted an irony in both Newt Gingrich and Rick Santorum for going after Romney as insufficiently conservative when the same accusation could just as easily apply to them. He blamed the media for not covering the social conservatives from that same angle as Romney, and said that he knows from personal and political experience that all three of them do not exactly have pure conservative streaks.
"All of them are rather typical of what's wrong with the country, you know, that they don't have firm convictions, and, of course, they've been rewarded, many people are rewarded for saying, 'Well, don't be overly rigid.' Well, they're very rigid in flip-flopping."
Schieffer turned the discussion to voter enthusiasm and how much better Paul is at inspiring and mobilizing people than his Republican rivals. He told Paul that he sees the kind of people who come out in support for him, and they look very "committed." Schieffer asked Paul why the other candidates just aren't that good at it. Paul argued it was because of how lackluster their agendas are in comparison.
"I don't think the other candidates are offering a lot of change. I think one of the most disturbing things, a couple of things the Republicans ought to be disturbed about, that they do not, other than myself, they're not appealing to young people and other thing was that 20 percent of Republicans now are considering now that they either might stay at home or vote for Obama. And they are staying home for the primaries, so that means they're not offering, you know, a real alternative. I think when people hear my message, they get excited about it."
RELATED: Bernie Goldberg: It May Be 'Genetically Impossible' For Romney To Have 'Enthusiasm'
Paul again struck the difference between him and his rivals by emphasizing their interest in the status quo in contrast with his political beliefs.
Watch the video below, courtesy of CBS:
Have a tip we should know? tips@mediaite.com
Josh Feldman - Senior Editor