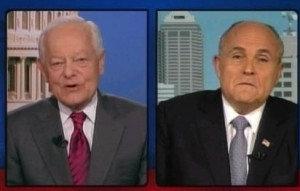 Former New York Mayor Rudy Giuliani appeared on Face the Nation today to talk about the Republican presidential race and something about the Super Bowl. Giuliani didn't endorse any particular candidate in the race, and while he admitted he personally admires all of the candidates in the field (though I'm guessing that doesn't include Ron Paul), he's concerned with how much they have been attacking each other during this primary season. But it's not just the attacks themselves, it's that they sound like they're coming from the left.
RELATED: Bob Schieffer Confronts Gingrich: Some Say You Are Doing Obama's Work For Him
Giuliani cited Newt Gingrich's attack on Mitt Romney over his time at Bain Capital, and Romney going after Gingrich on how he's raised money as two prime examples of this. There could not be a starker contrast, Giuliani argued, between two candidates in a Republican race. He credited Gingrich with having a better tax plan than Romney, and admitted "it would be a much more interesting race" if it was just the moderate Romney against one conservative instead of both Gingrich and Rick Santorum splitting that constituency.
Bob Schieffer brought up statements Giuliani made in the past about both candidates, including his bewilderment at how much Romney has changed his positions over the years. Giuliani stuck by that argument, calling Romney a "traditional moderate Republican" and while normally the socially moderate Giuliani would get behind the more moderate candidate in the race, he's not sure if he can support a candidate who's made as many flip-flops as Romney.
When Schieffer asked if Giuliani had any regrets about not entering the race this time around, he just laughed and admitted his social views would not get him far in a current Republican contest. Then Schieffer went back to Giuliani's self-description as a moderate and asked him a question about the state of the Republican party.
"Are there moderate Republicans out there anymore? Is there such a thing as what we used to see as the Republican establishment?"
RELATED: Rush Limbaugh Slams GOP Establishment: 'We Nominate Milquetoast Moderates And We Lose'
Giuliani admitted he does not really care for the "moderate" self-description, but in order to distinguish himself from the rest of the party on social issues, he has to adopt that label.
Watch the video below, courtesy of CBS:
Have a tip we should know? tips@mediaite.com
Josh Feldman - Senior Editor