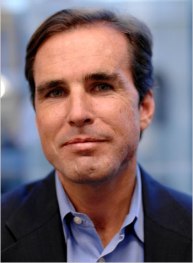 ABC News' Bob Woodruff, who was seriously injured in an IED explosion three years ago, returns to Iraq this week to report for the network.
It is the culmination of an incredible journey for Woodruff since his injury that left him with a severe brain injury. There were doubts whether he would be able to report again, or fully recover. Now he has – so why go back to Iraq?
Woodruff explained the reasoning in a blog post today:
I have many goals with this trip. I want to visit the doctors, nurses and medics who are putting their own lives at risk to save others. I would like to understand first-hand the status of the war and learn more about what the US role will be. I want to view first-hand the new equipment and vehicles that reduce the numbers of injured.
Woodruff did clarify on this trip he "will stay on the US military bases without going out on the streets or battle zones like I have in the past." Still, returning to Iraq shows the journalistic drive of a man who has reached great levels of success at ABC News, before and after the injury.
Woodruff has continued his charity work (also aimed at military families), and now he brings it full circle with reports from Iraq.
ABC News President David Westin addressed Woodruff's decision in a note to his staff (via TVNewser): "As many of you know, Bob's been eager to get back to Iraq for a while now, and the opportunity to travel with Admiral Mullen presented us with the right set of circumstances for his return."
Here are some reflections from ABC Newsers of the 2006 attack:

—–
• Follow Steve Krakauer on Twitter
Have a tip we should know? tips@mediaite.com