Bob Woodward: Hillary Clinton's 'Inconsistencies' Are Not Richard Nixon's 'Crimes'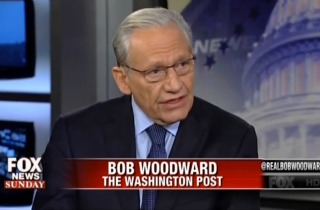 Bob Woodward, the Washington Post journalist who famously reported on the Watergate scandal that led to the resignation of former President Richard Nixon, said on Sunday morning that the House Select Committee on Benghazi's investigation "clearly is partisan," but cautioned that there are still "inconsistencies" in Hillary Clinton's statements after the 2012 terrorist attack.
Woodward sought to distinguish the Benghazi investigation from the Watergate probe, contending that the latter revolved around a series of "well-established" crimes, and the investigation was truly bipartisan, with Republicans asking tough questions as well. With the Benghazi committee, Woodward said, "it clearly is partisan," which is why the panel's Democrats did not question Clinton as intensely during last Thursday's marathon hearing on Capitol Hill. With Benghazi, no crimes were committed, Woodward added, just "inconsistencies."
"There are legitimate questions here," Woodward said. "…Here's the issue: you have inconsistencies. This is a tragedy, and it should be investigated. …  She did or attempted to answer all of those questions. But there's no crime here on her part. And to try to criminalize it and suggest, as some people have said, 'Oh, she'll be in jail.' There's no evidence of a crime. There is evidence of inconsistency. I mean, my God, this is our business, our lives — people saying one thing privately and saying something different publicly."
Woodward added that "it better bother us" that Clinton emailed her daughter saying the Benghazi attack was carried out by a group similar to al Qaeda, even as she was still, in public, mentioning the video as the cause of the attack. That email was revealed by Rep. Jim Jordan (R-OH) at Thursday's hearing.
Woodward previously said Clinton's emails remind him of the Nixon tapes, but has cautioned repeatedly that Clinton's inconsistencies in her public and private statements cannot be equated with the crimes of Nixon's Watergate cover-up.
Watch the video above, via Fox News.
[Image via screengrab]
— —
>>Follow Andrew Desiderio (@desiderioDC) on Twitter
Have a tip we should know? tips@mediaite.com