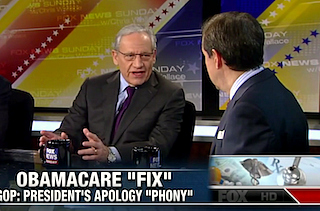 On Fox News Sunday, legendary journalist Bob Woodward downplayed the analogies being tossed around comparing the troubled Affordable Care Act rollout to presidential scandals, but also argued that the rollout of the Affordable Care Act was likely to get worse before it got better.
"What this is, it's a mess, clearly, but what it isn't, and I think you have to look at the question of motive," Woodward said. "And the president's motive here, even though there were deep problems with the implementation, he wants to do something good for 30 million people and get them health insurance. So this isn't Watergate, this isn't Bill Clinton and Monica Lewinsky."
"I'm not saying it's a scandal," host Chris Wallace said. "What it seems to be is rank incompetence."
RELATED: Is Obamacare Rollout President Obama's 'Hurricane Katrina' Moment?
"There's no question about that," Woodward replied. "But you see all of these stories and this frenzy out there, 'the game over, the presidency is over,' some people are saying. I think that's not the case."
"But when you go down the road, it's going to get worse," he continued. "This is a money issue. It's going to blow a hole in the budget when you go two or three months from now, and have more 'are we going to shut down the government, are we going to pay for the debt we have,' all of a sudden this is going to come on the table and people are going to say, 'My God it's going to cost much more money than we were spending on these things before.' So how you disentangle this is now on Obama's head."
Watch the clip below, via Fox News:
[h/t Politico]
[Image via screengrab]
——
>> Follow Evan McMurry (@evanmcmurry) on Twitter
Have a tip we should know? tips@mediaite.com