Bobby Jindal Takes On GOP On CNN: 'We Don't Win Elections By Insulting Voters'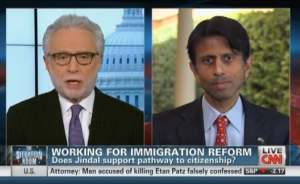 Louisiana Gov. Bobby Jindal spoke out about Mitt Romney's "gifts" remarks recently, calling them "absolutely wrong." Later this afternoon, he paid a visit to CNN's Wolf Blitzer to further discuss his criticism — and offer his insight on the direction the GOP should be taking. The party's approach should be an inclusive one, he said, not about "insulting" people.
"This is completely unhelpful," Jindal said. "This is not where the Republican Party needs to go."
He went on to offer some basic advice: "If you want voters to like you, the first thing you've got to do is to like them first. And it's certainly not helpful to tell voters that you think their votes were bought. That's certainly not a way to show them you respect them, you like them."
"We need to stop talking down to voters," Jindal said. "As a Republican party, we need to fight for 100 percent of the electorate. Not 53 percent, not 52 percent, but 100 percent. We've got to stop trying to divide people into different groups by race, by gender, by class. Instead, we've got to show them that our conservative principles will help them pursue the American dream."
Simply put: "We don't win elections by insulting voters."
Blitzer remarked that Romney's "gifts" comments seemed to him reminiscent of his infamous "47 percent" remarks that caused a great deal of controversy during the campaign cycle. Asked whether he sees similarities between the two comments, Jindal replied that both the GOP and the country are "aspirational." A country where everyone wants their children to do better than their parents have done.
"I truly believe people on food stamps and government assistance don't want to be there," Jindal said. "They're there because they don't have the ability to get better paying jobs. It's our responsibility to adopt policies that grow the economy, that give them the education, that give them the opportunities to have a better quality of life."
"I don't think we advance this discussion or debate by insulting folks," he added. "Look, the Republicans, we need to stick to our principles. But we need to treat each other with respect. Even those we don't agree with, we need to show them we respect them, we respect their beliefs, their principles."
On that note, Jindal took a critical look at his colleagues within his own party, noting that Republicans "said a lot of dumb things," and "we need to condemn the remarks." He again emphasized that Republicans have great ideas when it comes to issues such as education and tax reform, but that the party needs to "stop talking down to voters."
"Let's actually have an honest, intellectual debate. Let's stop insulting people," he said. "We do have too many people on unemployment — but they're not there because they want to be there."
About that sentiment, Blitzer asked, "Did you convey these same thoughts to the governor when he was the Republican presidential nominee?" Jindal questioned the benefit to "continue to look back" — going on to say that Romney is a "good" and "honorable" man with a "very impressive biography and resume," but that his campaign didn't effectively lay out how his vision would have helped the country.
Jindal then looked to the future, saying the party needs to congratulate the president on his win and move forward.
"We don't think demographics is destiny," he said. "The Republican party doesn't need to moderate our principles. We do need to modernize our party, however."
Finally, Blitzer asked Jindal about immigration. The governor said the GOP needs to be clear "that we welcome folks that want to come to this country."
"Whether your family's been here five minutes or hundreds of years, that's not what makes you an American," Jindal said. "I don't think we should be negotiating with ourselves. Let the president put his ideas on the table. … Let's stop kicking people out that want to make this a better country."
Watch the segment below, via CNN:

Have a tip we should know? tips@mediaite.com