Body Language Expert Analyzes Behavior Of The Cycle Hosts To Determine If They Like Each Other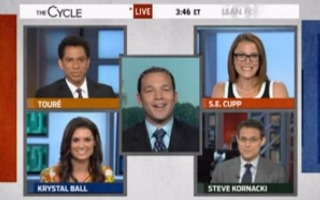 On Friday, MSNBC's The Cycle invited body language expert Aaron Brehove to analyze how the show's hosts were interacting with one another after their first two weeks. "You guys are doing great," said Brehove when asked to provide an overall verdict on the program. "The show is going to be a big hit."

RELATED: MSNBC's The Cycle: The Five…But With Four…At 3 P.M.?
Brehove was first asked to provide his impressions of S.E. Cupp.
"You're definitely very expressive," Brehove said to a visibly embarrassed Cupp. "There are a lot of emotions coming out of you, S.E."
Cupp said she has been told that she has a very expressive face. "I don't even know that I'm doing it sometimes, but I know that I make a lot of facial expressions," she said.
"I can see that little competitiveness when you get a little dig in there," said Brehove.
Moving on to Touré, Brehove said that he is "the most consistent of the group."
"He's not too aggressive, not too passive," Brehove said. "He comes across – it's a very positive thing that you see. He's very based, very balanced."
Cupp asked Brehove to weigh in on the body language of co-host Krystal Ball who he described as "consistent but up and down" one. "When you're aggressive about something, you do display it in your body language," Brehove said.
The body language expert went on to describe Steve Kornacki as "sweetheart of the group."
"He has, what some experts call, the open face," said Brehove. "He sits forward, his eyebrows go up and he brings you in." Brehove said that if Korancki gets cut off by his fellow hosts the least because of his open and inviting personality and expressions.
Finally, Brehove was asked to weigh in on the cast of The Cycle's promotional shot. He said that Cupp was displaying the most attitude of the group.
Watch the segment below via MSNBC:
> >Follow Noah Rothman (@Noah_C_Rothman) on Twitter
Have a tip we should know? tips@mediaite.com