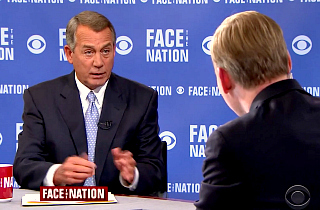 House Speaker John Boehner (R-OH) admitted on Face the Nation Sunday morning he had no idea what the conservative caucus of the House GOP was thinking when it squelched a vote to fund the Department of Homeland Security for another three weeks.
Boehner's plan had been to approve funding for those three weeks to allow a district court time to rule on whether President Barack Obama's executive order delaying deportations could be implemented while a suit questioning its legality pended. A rider defunding that order is responsible for holding up DHS funding in the Senate, but if the order were put on hold the GOP's objection would be temporarily rendered mute.
That was Boehner's plan, anyway. Fifty-some members of the conservative caucus rebelled Friday night, forcing Boehner to partner with House Democrats to pass a one-week extension and leaving the House GOP to repeat Friday's "mess" all over again this week.
RELATED: Peter King Demands Boehner Pass 'Clean' DHS Bill, Ignore 'Irresponsible' Republicans
"Did they have plan that could have succeeded that would have gotten them with they wanted," asked host John Dickerson, "this small group you say that basically undermined your effort?"
"Not that I know of," Boehner responded.
"Was it fruitless?" Dickerson pressed.
"The House of Representatives is a rambunctious place. We have 435 members. A lot of members that have different ideas of what with we should and shouldn't be doing."
"Can you lead those members?" Dickerson asked.
"i think so," Boehner replied. "I'm not going to suggest it's easy. Because it's not."
Watch the clip below, via CBS News:
[Image via screengrab]
——
>> Follow Evan McMurry (@evanmcmurry) on Twitter
Have a tip we should know? tips@mediaite.com