Boehner Announces Short-Term Debt Deal, Claims GOP Is Meeting Obama 'Halfway'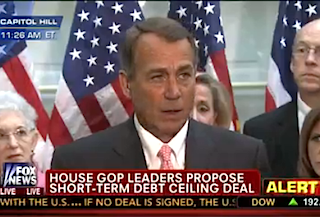 In a short press conference Thursday morning, one week before the October 17th debt ceiling deadline, House Speaker John Boehner (R-OH) announced a possible short-term deal the raise the debt ceiling and avoid default. The deal, which the House could vote on today, would only raise the debt limit through November 22nd, at which point another deal would be needed to raise it again.
Boehner began by castigating President Obama and the Democrats for refusing to "talk" over the last 10 days since the government shutdown began. "We tried to offer bills that would reopen parts of the government," he said, "only to have them rejected by our counterparts over in the United States Senate."
"So what we want to do," he continued, "is to offer the president today the ability to move, a temporary increase in the debt ceiling, an agreement to go to conference on the budget, for his willingness to set down and discuss with us a way forward to reopen the government and to start to deal with America's pressing problems."
"I would hope that the president will look at this as an opportunity and a good-faith effort on our part to move halfway," Boehner concluded, "halfway to what he has demanded in order to have these conversations begin." Notably, as in Rep. Paul Ryan's recent op-ed, there was no mention of the Affordable Care Act, which set off the budget stalemate and eventual government shutdown.
Following comments by House Majority Leader Eric Cantor (R-VA) and House Majority Whip Kevin McCarthy, Boehner took a few questions from the press, maintaining that he doesn't want to "put anything on the table" or "take anything off the table" before the next round of negotiations begins. But once reporters started asking about hypothetical scenarios, Boehner delivered his standard rebuttal: "If ands and buts were candy and nuts, every day would be Christmas."
Watch video below, via Fox News:
[photo via screengrab]
— —
>> Follow Matt Wilstein (@TheMattWilstein) on Twitter
Have a tip we should know? tips@mediaite.com