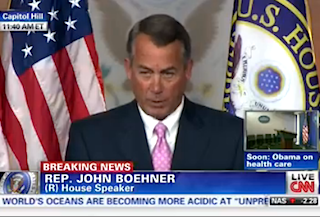 Before President Barack Obama delivered his announcement on administrative fixes to the Affordable Care Act, House Speaker John Boehner held a press conference of his own. Beyond expressing his own doubts about the administration's ability to improve Obamacare, Boehner made news by addressing the Employee Non-Discrimination Act (ENDA), which passed in the Senate last week but will need to pass in the House in order to become law.
"I am opposed to discrimination of any kind–in the workplace and any place else," Boehner told reporters. But, he continued, "I think this legislation–that I have dealt with as chairman of the Education Workforce Committee long before I was back in the leadership–is unnecessary and would provide a basis for frivolous lawsuits. People are already protected in the workplace. I am opposed to continuing this."
Boehner previously expressed his opposition to the bill through his spokesman, but this was the first time he spoke out publicly against it.
"Listen, I understand people have different opinions on this issue, and I respect those opinions," Boehner added. "But as someone who has worked in the employment law area for all of my years in the statehouse and all of my years here, I see no basis or no need for this."
While Republican opponents of the bill have claimed that it's redundant, as the law stands now, there are 29 states where someone can be fired because of their sexual orientation without any legal protections. ENDA would make that practice illegal.
Watch video below, via CNN:
[h/t ThinkProgress]
[photo via screengrab]
— —
>> Follow Matt Wilstein (@TheMattWilstein) on Twitter
Have a tip we should know? tips@mediaite.com