John Boehner Reacts To Obama's Social Security Remark: Way Too Early For 'Veiled Threats'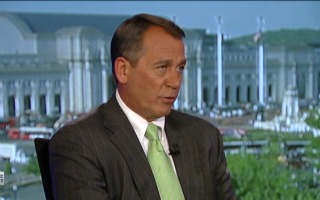 House Speaker John Boehner paid a visit to Fox News' Special Report with Bret Baier to talk about President Barack Obama's input yesterday evening on ongoing talks surrounding the national debt:
I think the big issue for today was Mr. Cantor and I, the Majority Leader of the House, really pressed the President for, you know, where is this plan? We've talked about a lot of possibilities, he and I had conversations for a couple of weeks, but we've never really seen the whole plan and what they're really willing to do.

You know, one of the problems that we got into late last week and that culminated on Saturday when I finally decided that working with him probably wasn't working is that, you know, they had some ideas, but they never would quite put them on paper. They talk about making substantive reforms in the entitlement programs, but never could quite get there. That, and the fact is that they were continuing to insist on us raising taxes. And so I think it's time for the President to put his plan on the table. Let's the American people see just what the President is proposing.
Boehner also spoke of the mounting frustration surrounding these discussions, as well as the growing need for a backup plan — or several. One possible long-term option, he explained, would be the addition of a Balanced Budget Amendment to the Constitution.
Baier then asked Boehner for his thoughts regarding Obama's recent revelation that he "cannot guarantee" that Social Security checks for all those entitled will be sent out by early August:
I don't know what to believe. The Treasury Secretary is going to have options in terms of who should be paid and who shouldn't. And, yes, there are some debts that have to be rolled over, but there's going to be money available on August the 3rd, and I think it's way too early to be making some types of veiled threats like that.
Watch Boehner's interview, via Fox News:
Have a tip we should know? tips@mediaite.com