Boehner Slams Senate Inaction: If Shutdown Threat Is So Dire, 'Where Are They?'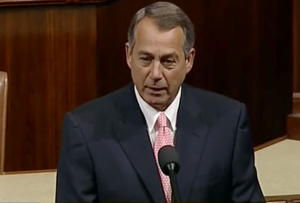 In case you haven't been following all the ins and outs of the government shutdown fight, here's where we stand: the House sent a continuing resolution with a provision to defund Obamacare to the Senate, the Senate got rid of that provision and sent it back to the House, and the House voted to delay Obamacare instead and now the Senate gets to reject that too. But when Speaker John Boehner took to the House floor Monday morning, he had a burning question: if the threat of a government shutdown is so dire, why didn't the Senate already act?
Boehner opened his brief remarks going after Obamacare, saying that the law "is not ready for primetime," and touted the work the House did in passing another continuing resolution to fund the government but delay Obamacare and get rid of the medical device tax.
We are less than 12 hours away from a government shutdown, and Democrats have been taking a hardline against negotiating with Republican demands. But Boehner wanted to know exactly why the Senate hasn't already acted.
"The Senate decided not to work yesterday. Well, my goodness, if there's such an emergency, where are they? It's time for the Senate to listen to the American people, just like the House has listened to the American people."
Of course, the Senate could pass the continuing resolution again with the Obamacare language stripped, at which point it goes back to the House again, and either this gets resolved before midnight or turns into the world's longest, drawn-out game of legislative volleyball.
Watch the video below, via C-SPAN:
[h/t The Hill]
[photo via ???]
— —
Follow Josh Feldman on Twitter: @feldmaniac
Have a tip we should know? tips@mediaite.com
Josh Feldman - Senior Editor