Boehner Warns Stephanopoulos U.S. Will Default Without Deal: 'It's the Path We're On'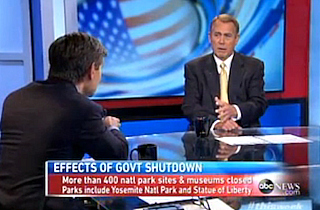 House Speaker John Boehner appeared on This Week with George Stephanopoulos Sunday morning and warned that the United States could default on its debt unless President Barack Obama agreed to negotiate over the raising of the debt ceiling. This is in stark contrast to reports this week that Boehner had privately told members of his caucus that he would pass a bill to raise the debt ceiling with Democrat votes before he allowed default.
"My goal here is not to have the United States default on its debt," a defiant Boehner told Stephanopoulos. "My goal here is to have a serious conversation about those things that are driving the deficit and driving the debt up. The president's refusal to sit down and have a conservation about this is putting our nation at risk of default."
"So are you saying if he continues to refuse to negotiate, the country could default?" Stephanopoulos asked.
Boehner shrugged. "It's the path we're on," he said. "[Obama] knows my what my phone number is. All he has to do is call."
RELATED: Sen. Ted Cruz to CNN's Candy Crowley: Use Debt Ceiling Vote to 'Mitigate' ObamaCare
Boehner also said that there were no circumstances under which a "clean CR"—a continuing resolution to fund the government that did not affect the Affordable Care Act—could pass the House of Representatives.
"There are not the votes in the House to pass the clean CR," Boehner flatly stated.
"Is that true?" Stephanopoulos replied, noting that more than twenty House Republicans had publicly stated their support for a clean CR to reopen the government, meaning it could pass with a combination of Democratic and Republican votes. "You add those Republicans to Democrats, a few more would come along, and you have the votes!"
"We're interested in having a conversation about how we open the government and how we begin to pay our bills," Boehner answered. "But it begins with a conversation."
Stephanopoulos also asked Boehner if he was in fact running the strategy in the House, as some members had explicitly admitted that Senator Ted Cruz (R-TX) was controlling House strategy, and that Boehner had not desired this fight.
"Did you decide, or was it decided for you?" Stephanopoulos asked. "This is clearly not what you want,"
"I thought the fight would be over the debt ceiling," Boehner said, but noted his members had pushed him into the fight over the continuing resolution. "This fight was going to come one way or the other."
Watch the full clip below, via ABC News:
[Image via screengrab]
——
>> Follow Evan McMurry (@evanmcmurry) on Twitter
Have a tip we should know? tips@mediaite.com